Whether you're a casual reader or bookworm, there's a bookstore near you offering a lifetime of incredible reads. Below you'll find our list of favorite locally owned bookstores in Denver and Boulder, all picked by our PorchLight team. Please help us support them by picking up a book or two—or twenty! You can then cozy up with a fluffy blanket while getting lost in the pages and exploring new worlds and ideas.
With so many great choices, there's something for readers of all ages.

Located in the Berkeley neighborhood, BookBar is an indie bookshop for wine lovers. And a wine bar for book shoppers. With a strong tie to the community, 10% of all book sales are donated to their non-profit organization, BookGive which distributes new and gently used books to individuals, schools, and nonprofits throughout metro Denver.

Second Star to the Right, Denver
Owned and operated by former teachers, Second Star to the Right offers children's and young adult books, from the newest releases to your childhood favorites. You'll also find educational and sustainable toys, plus parenting and gift items local to Colorado companies. They also host a variety of events (currently virtual) including author visits and storytime.
"My son and I love the Second Star to the Right bookstore in the Platt Park neighborhood. This fun and colorful bookstore stocks the best selection of children's books and toys and the staff provide excellent recommendations for books that your kids will love."
Specializing in new, used, and unusual books for over twenty years, this independent bookstore is located in the Highlands neighborhood of Denver. Shop in-store (currently by appointment) or from their website. For help finding your next good read, be sure to check their site for staff picks, specially curated lists, store bestsellers, and award-winning books.

Mutiny Information Café, Denver
This new and used bookstore comes with a ton of extras, including a coffee bar (brewing the strong stuff), comic book shop, records, posters, kombucha on tap, CBD snacks, even pinball machines. Located in the Baker neighborhood, Mutiny also hosts live events, from bands to comedy shows, movies, author events, magic shows and more.

In business since 1984, this is Boulder's largest used bookstore with over 5,000 square feet of books in almost all genres, from Eastern Religion to Fiction, Children's Books and Sci-Fi/Fantasy. You'll also find DVDs, CDs, books on CD, Leanin' Tree greeting cards, and postcards. They even have a café serving hot drinks and cold bottled drinks.
"They have a vast fiction selection with helpful staff suggestions and a huge selection of children's books. They make it easy to trade-in books and receive credit for current and future purchases. Thrifty and environmentally friendly!"
—Karon Dickinson, Broker Associate
This is the largest independent bookstore in Boulder with more than 100,000 titles found on three floors. They also host numerous in-store and community events each year and have been named "Best of Boulder" by local papers every year since 1987. Owner, David Bolduc, is also a founding member of the Boulder Independent Business Alliance and has been at the forefront of the "shop local" movement for over a decade.

Trident is a small independent bookstore and cafe located in the heart of downtown Boulder. They have been serving the community for over 40 years. Trident offers new and used books, Campos Coffee, a wonderful tea program, a variety of merchandise and more. Open from 7am until 9pm, evenings feature beer and wine on their back patio.
"Drop into Trident Booksellers & Cafe for respite from the bustle of Pearl Street or sit outside to watch the world go by. Either way, it's likely you will discover a gem amid their perfectly curated bookshelves and get an amazing cup of tea or coffee."
—Kim Hullett, Broker Associate
About PorchLight's Local Supporting Local Campaign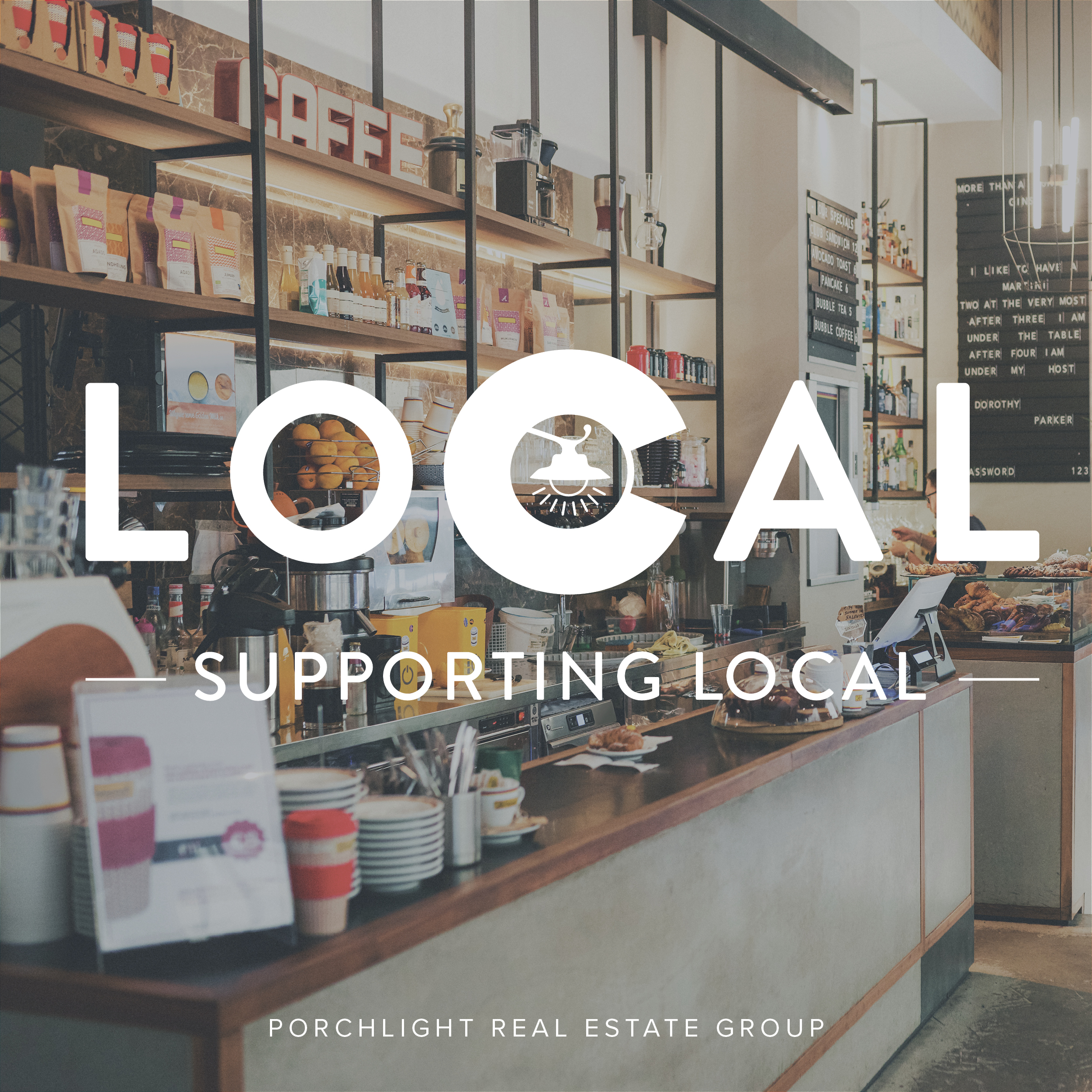 With 2020 turning our world upside down, we've launched this campaign to help support our fellow locally owned businesses whose contributions to our city and lives are immeasurable. We're committed to giving all types of businesses, from bookstores to bakeries, the spotlight each week. We hope you will join us in giving them your support and helping to sustain their livelihoods and longevity in our community.
Along with being locally owned and operated, PorchLight is also women-, Jewish- and LGBTQ-owned. And for over 15 years, we've provided a personalized and comprehensive approach to buying and selling homes in the greater Denver metro area and Boulder.