If you're looking for last-minute holiday gifts or any time of the year gifts, these locally-owned shops can provide everything you need for everyone on your list. How about a gift for yourself or your new home? Absolutely. While you may not be familiar with these stores, PorchLight agents know the Denver and Boulder areas inside and out. They've picked out the best gift shops on the Front Range, so you don't have to hop around looking for that perfect something.
Boulder & North

Jacque Michelle | Website
This gift and fashion boutique has everything from greeting cards to a skirt for a trip to Cozumel. Products are made by local and regional artists and manufacturers from Boulder, Longmont and beyond, even apparel and accessories from recycled fabrics made in Nepal and Mumbai.
"Jacque Michelle is a gift shop right by the Boulder PorchLight office. This is a long-time local shop that started up on The Hill. The former owner, Jacque Michelle, thoughtfully curated a section of the store with fantastic books. The new owners, Janet Taffet and Kathy Blockwick, keep it almost identical to when Jacque herself owned it with fun jewelry, cards, unique clothes, books, puzzles, children's toys, candles, seasonal gifts and much more." – Niki Mattioli, Broker Associate
GiGi & Co. Pet Products | Website
Owned and operated by force-free dog trainers, Gigi & Co. in Lafayette stays current on the latest ethical and science-based foods, treats, and training products. They have firsthand knowledge of what you need to keep your pets healthy, entertained, mentally stimulated and "geared up".

Denver Neighborhoods
Voted Best Gift Shop by 5280 Magazine readers, you can find Wish Gifts in the University Hills and Belcaro neighborhoods. This independent gift shop offers thoughtful, funny and chic gifts, unique home collections, accessories, and Mother Earth-approved products for babies and kids.
"I love Wish Gifts because they offer a wonderful assortment of gifts for every occasion. Over the years I've picked up everything from a wrist clutch with a built-in power bank to a beautiful hat for a Derby party. You're guaranteed to find something interesting and special for everybody on your list!" – Shaylisa Turner, Senior Broker Associate

Decade Gifts | Website
Located in Denver's Baker neighborhood, Decade Gifts offers timeless accessories with value pricing in mind. Sourcing from local makers like Republic of Colorado and CLP Jewelry, they sell contemporary clothing, vintage furniture, home accessories, jewelry, baby, gifts, cards, and more.

Along Old South Gaylord Street in the Wash Park neighborhood, you'll find Silk Road. Reflecting the owner's traveling experiences and featuring talented artists and artisans from Colorado and beyond, this is your one-stop shop for unique gifts, jewelry, accessories and baby items.
"I buy a lot of closing gifts there, and they will wrap for you. Beware – every time I shop there, I buy at least one thing for myself. Jewelry, clothes, scarves, cutting boards, pretty serving dishes and cutlery, cool outdoor hanging lanterns, soap that looks like a rock, some baby stuff and lots more." – Caroline Glidden, Broker Associate

Here you'll find home accessories, unique gifts, bath and body products, garden fountains and statuary. Central Park's Datura Home is known for its quality house plants, including air plants and succulents, plus expert advice to help you select the right ones for your home and maintain them.
"They are always friendly and it is impossible to not find a great, unique and special gift for anyone or for any occasion. It is my go-to store for fun, unique, funky finds." – Heather Barben, Senior Broker Associate
Denver Suburbs
Rare Finds Warehouse | Website
Head to locations in Highlands Ranch and Central Park to find furnishings for your home, even a mountain getaway. They offer custom tables and benches, plus hand-picked sofas and chairs, lighting, architectural elements, unique accents and accessories for every space in your home.

lulu's Furniture & Décor | Website
This family-run, Englewood boutique sells hip furnishings and a mix of home accessories and gifts. Find everything from birthday cards to candles, art to dining tables and more. Whether you're in the market for a custom chair or need in-home design consulting, they can help.
"Lulu's has something for everyone...unique housewarming gifts, eclectic decor, and high-quality furniture. They have everything you could possibly need to make a house a home." – Nikki Wiederaenders, Broker Associate

Interior Delights | Website
This one-of-a-kind, home decor and furnishings shop is located in Parker. They sell a large variety of chandelier and pendant lighting, furniture, home accents and gifts. Their staff can also provide in-home design and decorating services and lighting consultations to help update your home.

About PorchLight's Local Supporting Local Campaign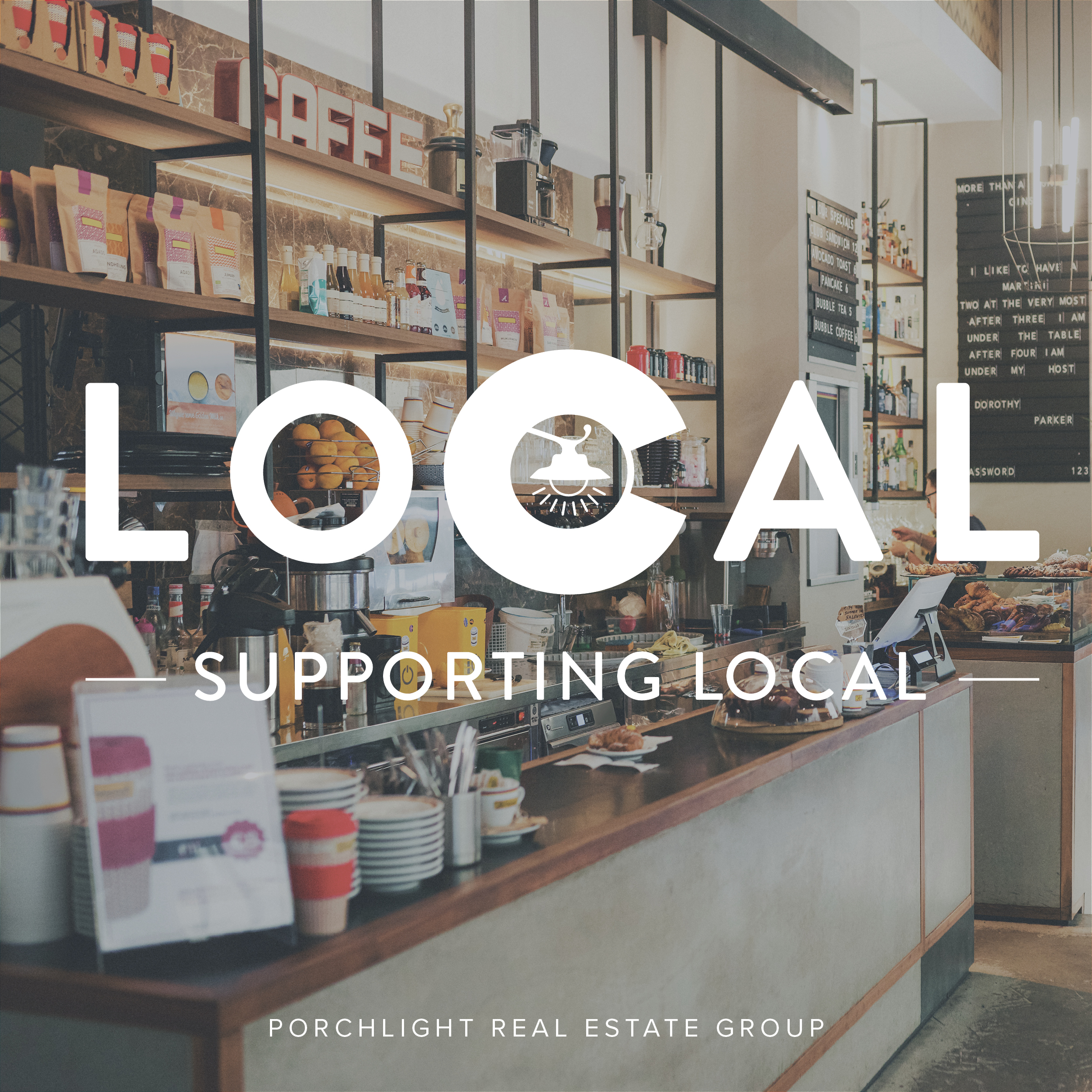 With 2020 turning our world upside down, we've launched this campaign to help support our fellow locally owned businesses whose contributions to our city and lives are immeasurable. We're committed to giving all types of businesses, from bookstores to bakeries, the spotlight each week. We hope you will join us in giving them your support and helping to sustain their livelihoods and longevity in our community.
Along with being locally owned and operated, PorchLight is also women-, Jewish- and LGBTQ-owned. And for over 15 years, we've provided a personalized and comprehensive approach to buying and selling homes in the greater Denver metro area and Boulder.