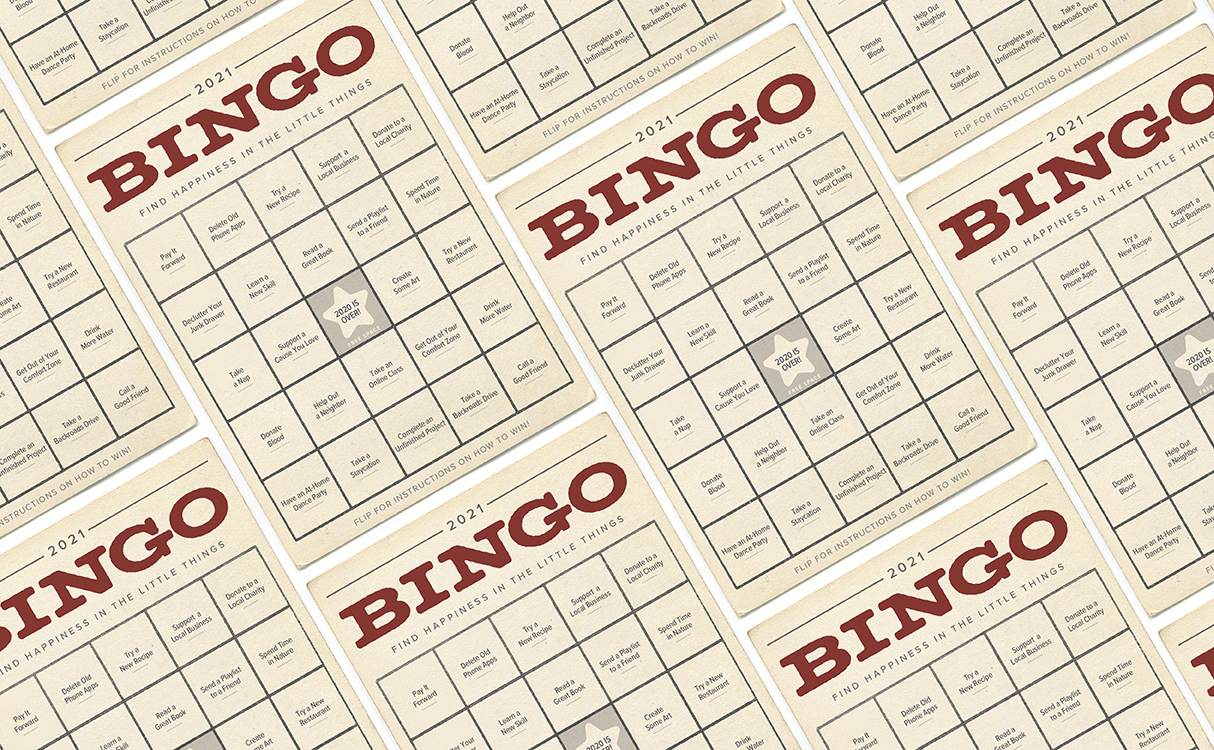 It's no secret that 2020 was unprecedented, to say the least. You may even say it was a total dumpster fire. An absolutely fair assessment.
For many, it was also an opportunity to spend more time with partners and family, learn new skills like baking or knitting, wear stretchy pants while working from home, even experience a hectic Zoom happy hour. We went backyard camping, supported tons of local businesses via curbside pickup, and learned how to find happiness in the little things.
As we step into 2021 with the renewed hope that we'll see a vastly improved semblance of normal, being safe and mindful of our health remains a top priority. And if you've mastered all the puzzles you can handle or can't seem to find anything else to watch on Netflix, there's still plenty of ways to keep your spirits up and even help out your local community.
That's why we've put together a little game for you to play—2021 Bingo! We start out with a free space to celebrate 2020 finally being over, then provide 24 simple ideas to help fill the new year with happiness and fun, like taking a nap to recharge or helping out a neighbor. Simply download and print out your 2021 Bingo Card. Then knock out a line of 5 items—vertical, horizontal or diagonal. If you complete a line, feel free to use our ideas to go for a full bingo blackout by completing all the activities listed—or make a list of your own! As 2020 showed us, getting creative with our time at home provides endless possibilities.
If you want to play to win a prize, a bingo card will be arriving in the mail from your PorchLight agent (you can also download one here). Then, simply mark it up, post and tag @PorchLightGroup on Facebook—or Instagram if your profile is public. Your agent will then deliver your gift!
Of course, if your own 2021 happiness list includes finding a new home, maybe one with more separate spaces or your own dedicated work from home office, our PorchLight agents are always here to help. They'll find the best possible options for your needs. Our team is showing and selling according to all safety guidelines, so you'll be in the best hands.
Happy New Year from PorchLight!