Looking for the best brewery in Denver and Boulder? You've come to the right place. Colorado, that is—and we're not just talking about Coors which was founded in the state back in 1873 and has become one of the top beer brands in the world.
Known as the "Napa Valley" of beer, Colorado boasts some of the best craft beer makers, from taproom-only brewers to larger local names that you'll find in a ton of grocery stores and restaurants across the state and beyond. In fact, our state is second in the nation for the sheer number of craft breweries, 425+, and comes in fourth for most breweries per capita—impressive since Colorado is home to less than 2% percent of the population in the entire United States.
Plus, Denver has hosted the Great American Beer Festival every year since 1984. This renowned event showcases hundreds of top craft brewers in the nation and typically offers over 4,000 brews for attendees to sample (we don't recommend that). To say that Colorado, including Denver and Boulder, has one of the most amazing beer scenes around is a pretty accurate assessment.
So, let's get to the best breweries in Denver and Boulder. These spots have been tested and approved by our staff and agents, even family members! If you're looking for a cool, refreshing craft beer, simply head to any of these PorchLight favorites.

Boulder & North

Avery Brewing Company, Boulder | Website
Avery Brewing Company is a family-owned craft brewery in Boulder, Colorado. Since 1993, Avery has pioneered innovative beers by blending the art and science of brewing with ingenuity, creativity, and boldness. Avery bottles and cans more than 40 beers a year including White Rascal Belgian-Style White Ale, The Maharaja Imperial IPA, and Tweak.
"An impressive variety of craft beers and the restaurant menu is fantastic. Everything is curated with care. The sour ales are the most interesting combinations. Try the Bug Zapper." –Michi Sakurai, Broker Associate
Upslope Brewing Company, Boulder | Website
Located in Boulder, Upslope taps into Colorado's active lifestyle by offering superior quality, hand-crafted ales, lagers, and craft hard seltzer (Spiked Snowmelt). Launched in 2008, Upslope's owners didn't just float another microbrew into the sea of Colorado microbrews. They created a lineup of quality craft beers that taste as good poured from a tap as they do pulled out of a fishing vest. Their production brewery is located in Flatiron Park and their original brewery, on Lee Hill in North Boulder, is where most of the experimenting and beer-brewing happen. Stop into either!
4 Noses Brewing Company, Broomfield | Website
The 4 Noses Brewery is a family-owned and operated craft brewery and tasting room. 4 Noses has a passion for creatively brewing their own unique interpretation of classic styles. Using ingredients from around the world, 4 Noses combines traditional styles with nontraditional flavor profiles to give their beers a distinct personality.
Recommended by Dina Piterniece, Broker Associate

Left Hand Brewing Company, Longmont | Website
Left Hand is the product of co-founders Dick Doore, who had been homebrewing for years, and Eric Wallace who had traveled extensively internationally, seeking out exceptional beers. They incorporated in the September of 1993 and the brewery was named Left Hand after Chief Niwot (meaning left-handed), a Southern Arapahoe chief who wintered his tribe in the Boulder Valley. The company started Left Hand Brewing Foundation to fight alongside those who are fighting Multiple Sclerosis. They've raised millions and are a National Sponsor for Bike MS.

Even More Thirst Quenchers
Bootstrap Brewing Company, Longmont
Mountain Sun Pubs & Breweries, Boulder
Sanitas Brewing Company, Boulder
Wibby Brewing, Longmont

Denver Metro & South

Bruz Beers, Twin Lakes & Cheesman Park | Website
At Bruz, quality is king. Only the very finest ingredients are used to produce small batches of truly authentic, handmade beers. Fine Belgian malts, hops, spices, fruits and a diversity of Belgian yeast strains ensure superior quality with no compromises. Despite economic realities, they refuse to rush a brew—with some beers taking as many as three years to fully mature—and the results are worth it.
"They have two locations, specializing in Belgian style brews, the quality is outstanding and the vibe laid back. Not too loud to have a conversation. The Gnomeboy is a personal favorite I would recommend to anyone who likes their beer flavorful but not bitter." –Mike Morran, husband of Tammy Morran, Employing Broker
Denver Beer Co, LoHi & Arvada | Website
Serving only premium artisan ales and lagers, Denver Beer Co utilizes fresh ingredients and embraces both innovative and old-world styles of beer. Similar to a farmer's table, their beer selections change with the seasons. Their brewery is founded on a passion for high-quality, flavorfully crafted beer and the belief that the best pints are those shared with good company. After a long slog at the office or a gnarly mountain bike ride there is nothing better than a friendly place to sit and relax with friends and a pint. Denver Beer Co welcomes both Oxford shirts and dirty shorts. Dogs are welcome too!
Black Project Spontaneous & Wilde Ales, Platt Park | Website
Black Project Spontaneous & Wild Ales is the passion project of James Howat, owner, brewer, and blender of what was formerly Former Future Brewing Company. They are meticulous about designing recipes and processes that will allow nature to take over and create beers unrivaled in their beauty and complexity. Through experimentation and research, they are continuously developing new and different techniques for use with wild and spontaneous fermentation.
"Black Project is hands-down my favorite brewery in all of Denver. They focus on spontaneously fermented beers and the results are incredible. Each time you go in, you'll find something new you need to try, and typically end up loving. If you like unique beers (I'm partial to all of their sours) this will absolutely make your list too!" –Alex Linders, Digital Marketing Specialist
Ratio Beerworks, RiNo | Website
Ratio Beerworks focuses on a wide array of meticulously crafted beers based on traditional styles with a modern twist. This brewery is rooted in an ethic of excellence, innovation, and meticulous crafting. Beer offerings feature a consistent experience through flagship brews while also providing a rotation of seasonal and artisanal options. Though originally meeting in the world of independent music, the Ratio team has a widely varied past from brewing to business, branding to sales, marketing to product development. Having played in touring bands and run record labels, they share a passion for independent thinking, community and the DIY spirit.

More Denver Brews to Cruise
Spangalang Brewery, Five Points
Breckenridge Brewery, Littleton
Mockery Brewing, RiNo
New Terrain Brewing Company, Golden
Station 26 Brewing Company, Park Hill

About PorchLight's Local Supporting Local Campaign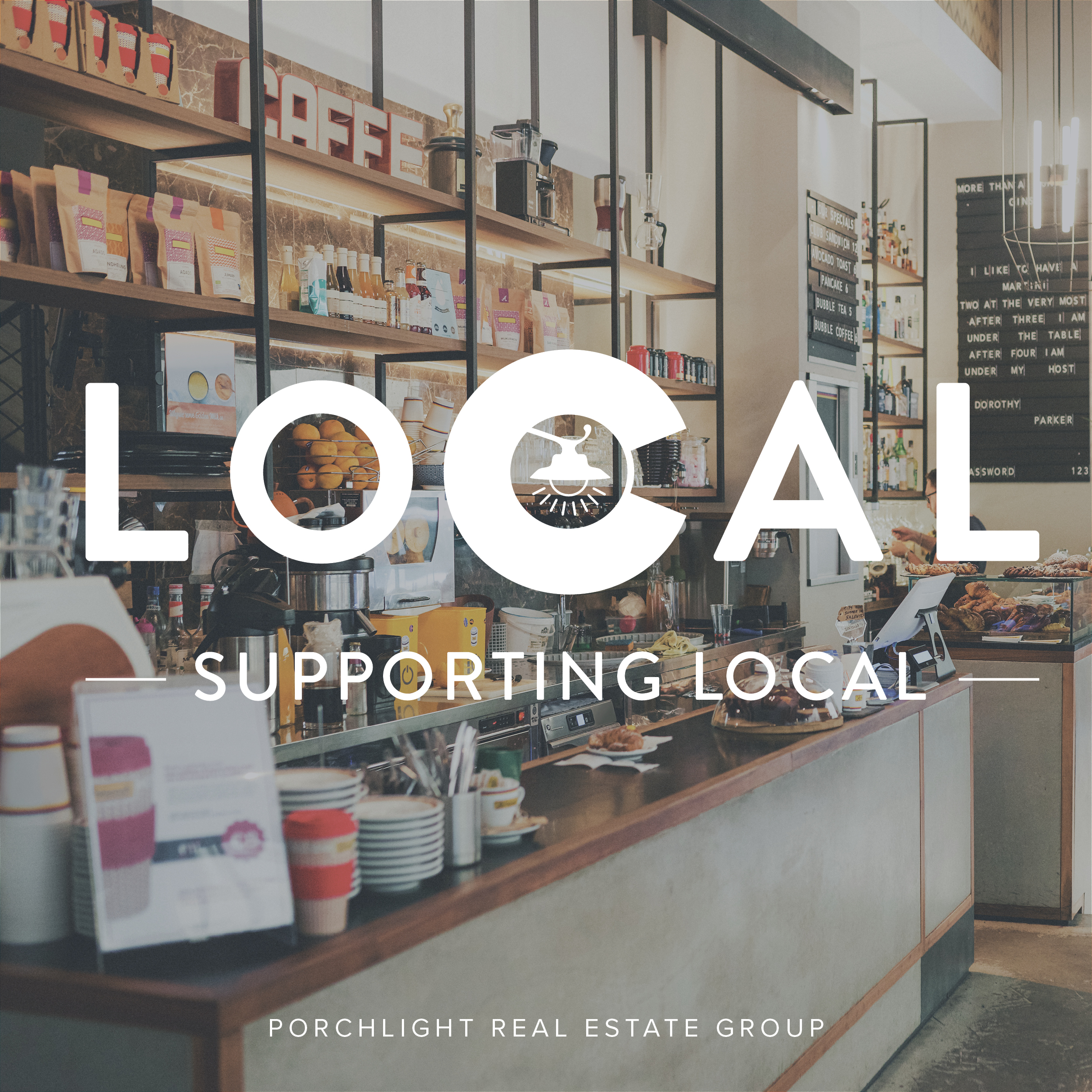 With 2020 turning our world upside down, we've launched this campaign to help support our fellow locally owned businesses whose contributions to our city and lives are immeasurable. We're committed to giving all types of businesses, from bookstores to bakeries, the spotlight each week. We hope you will join us in giving them your support and helping to sustain their livelihoods and longevity in our community.
Along with being locally owned and operated, PorchLight is also women-, Jewish- and LGBTQ-owned. And for over 15 years, we've provided a personalized and comprehensive approach to buying and selling homes in the greater Denver metro area and Boulder.