Whether you're looking to buy a home, recently moved in, or just want to refresh your current space, finding a Denver or Boulder home decor store that speaks to your inner interior designer can be tough.
Luckily, you don't have to resort to big box stores or online discounters to find exactly what you need. Treasure hunting for pieces that you'll fall in love with is as easy as heading to PorchLight's favorite locally-owned home stores—some even offer online shopping and delivery to your home! From MCM furniture to art framing and curated furnishings from around the world, there's something for every decor style.
Below is our list of great local home decor stores in Denver and Boulder, each one browsed and shopped by the home and neighborhood experts themselves, our PorchLight agents. Modern, bohemian, vintage, traditional or something in-between, happy browsing!
The Amazing Garage Sale | Website
This upscale, resale/recycled store features fine and eclectic furniture, antiques, collectible art, retro and vintage items at affordable prices. You'll also find unique home decor, jewelry, art and other unusual objects from all over the world. If you're moving or thinking about selling items, look no further. The Amazing team buys, sells and consigns every day, selling your items fast and paying. They've been in business for 10 years and have many happy customers.
Clutter Consignment, Boulder | Website
Clutter is a home furnishings consignment store featuring current, vintage, retro, classic and contemporary furniture and home decor. They carry everything from hand-knotted rugs to sofas, chairs and antique desks to original artwork, crystal wine glasses and pyrex bowls, all in gently used and clean condition. Inventory changes daily and therefore the look of the store changes as well—but when you visit this store, you'll always feel at home.
"In the spirit of reuse and recycle, Boulder has some great shops to wander through with cool used and vintage finds…the Amazing Garage Sale and Clutter Consignment." –Kim Hullett, Broker Associate
Modern Nomad, RiNo | Website
This experiential shopping journey can be found in the heart of the dynamic RiNo neighborhood in Denver. The 5,500 square foot warehouse houses 10 small businesses that are all locally owned, self-funded and first-time business owners.
Since 2017, it has been a place to roam, shop, mingle, and be inspired. You'll find a well-blended selection of home, body, garden and lifestyle items—all with the absence of walls—enabling you to experience its unique retailers.
Anthology Fine Art, Englewood | Website
Offering creative design and archival preservation of fine art, and anything worthy of your walls, Anthology Fine Art believes the walls of every home or business tell your unique story. They offer a large selection of custom frames, picture frames, a portrait studio, and fine art framing. And their gallery features local, emerging artists. Owners, Zach and Kendra, boast a combined 36 years of framing experience that you can trust!
"I use Zach and Kendra for all my framing needs. They started this small business (10 years ago) on their own, and I used to work with Kendra at Starbucks years ago...she would work a full shift at the drive-through starting at 4:15 am and then go work at the shop for a full day. They are amazing at what they do." –Chad Mendoza, Broker Associate
Arhaus, Boulder & Denver | Website
Arhaus was founded in 1986 with a passion to provide unique, high-quality, well-designed home furnishings. Their philosophy was to design products, search for the best manufacturer while controlling quality, and bring the furniture direct to their customers. Arhaus product developers travel the globe, working directly with skilled artisans to craft pieces that can only be found at Arhaus, ensuring that every piece meets their high quality standards.
"Donna Phelper at Arhause gives the best customer service and design inspiration. Furniture is classically elegant and extraordinary quality." –Clare Gleason, Managing Broker
Rare Finds Warehouse, Central Park & Highlands Ranch | Website
A visit to Rare Finds is a treasure hunt that brings the world to you. You'll find custom tables and benches to high-quality upholstered sofas and chairs, lighting, architectural elements, unique accents and accessories for every space in your home. Rare Finds follows trends, attends trade shows and listens to its customers. Their pieces are hand-picked to reflect the kind of ease and individuality that makes this store a go-to for unique furnishings.
HW Home, Boulder & Denver | Website
A Colorado company with a global reach, HW Home will introduce you to a curated collection of exceptional home furnishings from around the world. Many of these pieces can be seen in their stores, but all are available to ship directly to you. Whether a special order or a quick delivery from a deep inventory, you'll appreciate the impeccable service and attention to detail. At HW Home, business is personal, and they will help you make your home anything but ordinary.
"HW Home is locally owned and has a unique and beautifully curated selection of furnishings for every room in the house. They have a showroom in Cherry Creek North as well. They also offer home design consultations. Their furnishings can blend in with modern, traditional and eclectic styles." –Niki Mattioli, Broker Associate
Mod Livin', South Park Hill | Website
Mod Livin' Furniture features affordable mid-century classics, modern lighting, modern chairs and sofas, modern storage and contemporary accessories. Serving the Denver/Boulder region, some of the premier manufacturers represented include Blu Dot, Gus Modern, Vitra, Bensen, Modernica and Areaware. Mod Livin' opened its doors in 2001, with the goal of becoming a premier outlet for mid-century, new and vintage furniture and accessories.
"I love Mod Livin' because MCM architecture and furniture give me life. I am obsessed with A-frames and Mod Livin' furnishes my dream A-frame up in Granby (it exists only in my dreams and Pinterest boards). I love that they have a mix of new and vintage furniture and I never get bored looking at their beautiful pieces." –Allison Nuanes, Broker Associate
About PorchLight's Local Supporting Local Campaign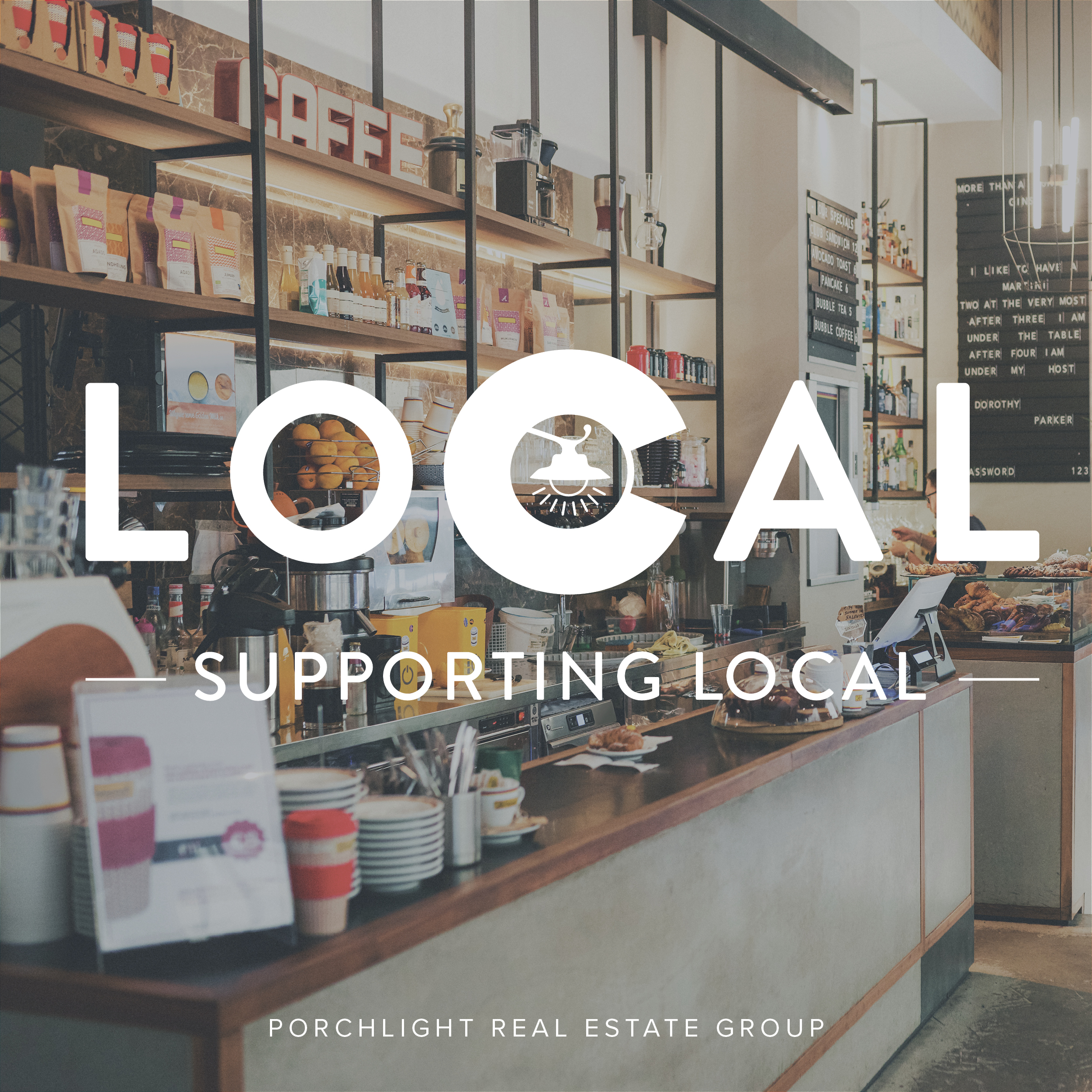 With 2020 turning our world upside down, we've launched this campaign to help support our fellow locally owned businesses whose contributions to our city and lives are immeasurable. We're committed to giving all types of businesses, from bookstores to bakeries, the spotlight each week. We hope you will join us in giving them your support and helping to sustain their livelihoods and longevity in our community.
Along with being locally owned and operated, PorchLight is also women-, Jewish- and LGBTQ-owned. And for over 15 years, we've provided a personalized and comprehensive approach to buying and selling homes in the greater Denver metro area and Boulder.