Find Your New Favorite Plant Store in Denver and Boulder
Visiting a Denver plant store and wandering a greenhouse in Boulder can be a lot of fun. There are so many options for both inside and outside of your home. With so many choices, it can also get to be a little overwhelming. You may even come home with a little of this and a pot of that and not know what to do next!
So, let's discuss what kind of plant parent you are which might help you decide what area of the garden center you should focus on browsing.
If you love wandering farmers markets and have outdoor space (even a patio area), think about creating a vegetable garden. There are both hardy and fussy plants, so choose according to your skill level and the amount of work you wish to put into maintenance.
If you love bold colors, you may be more of a flower garden person. Just be sure to talk to a nursery expert about what flowers are best suited for our weather. With perennials such as salvia, lavender, viola or echinacea, you'll enjoy brilliant blooms in spring and summer.
If you don't have a ton of outdoor space or currently rent, containers are great for smaller spaces like a balcony, front porch, window box, small back patio, even indoors on a windowsill that offers enough light. Read all about container gardens in our previous blog.
If you're a gourmet in the kitchen, fresh herbs will elevate whatever you're cooking. Based on your most popular dishes, put together an herb garden that can grow either indoors or out depending on their hardiness. Good options to start with are basil, thyme and mint.
If you don't have outdoor space, indoor plants can make any space feel warm and cozy. Plus, there are a lot of easy-care options such as a snake plant, pothos, aloe, the ZZ plant, money plant, succulents, even a rubber or fiddle-leaf fig tree. First, decide on where they'll live and see how much sunlight the area offers—then buy your plants accordingly.
Ready to get your hands dirty? Great! Let's get to our recommended list of the best plant stores in Denver and Boulder. All of these have been chosen by our plant-loving PorchLight agents who not only know buying and selling houses but where to find the best plant stores, nurseries, and garden centers. As your local resource, our team can help you turn your house into a home.

Planted, Sloan's Lake | Website
Planted is the conceptual realization and labor of love for Colorado native, Luke Huss. His business model and manifesto is to not only be surrounded by living greens but the lifestyle of being green and upcycling. This full-service plant shop offers tropical foliage, succulents, air plants and blooming plants. Planted also makes, uses and sells reclaimed wood plant displays, containers, wallscapes, and much more.
–Recommended by Elizabeth Martinez, Broker Associate
City Floral Garden Center, Montclair | Website
Established in 1911, City Floral Garden Center is the oldest remaining greenhouse in Denver and remains dedicated to helping you accomplish all of your gardening goals. At their extensive garden store, you'll find annuals, perennials, herbs, vegetables, houseplants, trees and shrubs, blooming plants, and much more. They also offer a wide variety of gardening tools and supplies, and a gift shop filled with garden decor, accessories, and seasonal merchandise.
–Recommended by Caroline Glidden, Broker Associate
Nick's Garden Center, Aurora | Website
Nick's has been supporting the gardening needs of Denver and beyond since 1987. They are family-owned and operated with a knowledgeable staff who is always ready to help. Their mission is to champion success for your landscape and gardening goals. That's why you'll only find superior quality trees, shrubs, perennials, vegetables, herbs, grasses, and other plants at their extensive garden center.
Echter's Nursery & Garden Center, Arvada | Website
Opened in 1959, this family-owned business is one of the largest retail plant nursery and garden centers in Colorado. They offer over 2,500 varieties of flowers each year, and their service is second to none. Wander their remodeled and expanded garden center with 70,000 square feet of display area inside, from indoor and outdoor plants to vegetables and herbs, outdoor furniture, bird feeders, garden decor—you name it.
"City Floral, Nick's, and Echters! I am a ridiculous gardener (we were on the 2018 Park Hill Garden Walk) and these are my three favorites. Local owners, great knowledgeable help, and that local flair you just don't get at big box stores." –Allison Nuanes, Broker Associate
Harlequin's Gardens, Boulder | Website
Harlequin's Gardens is a small family business that's dedicated to natural and sustainable gardening and specializes in Colorado-adapted plants: native plants, organic vegetable and herb starts, xeriscape, hardy roses, unusual perennials, fruit trees and berry bushes, hardy cacti, groundcovers, seeds, beekeeping supplies and much more. They also offer earth-friendly products to support your plants, along with good advice for plant care.
"I am an avid gardener, and my very favorite nursery is Harlequin's Gardens in North Boulder. All of their plants are pollinator-friendly (no pesticides), and all grow well in our Front Range environment. Mikl and the rest of his staff are caring, patient and passionate about plants!" –Michele Schiavone, Broker Associate
The Flower Bin, Longmont | Website
Family-owned and operated, The Flower Bin has proudly served Colorado gardeners since 1971. They reside on five acres of land with almost 80,000 square feet of indoor growing space and an additional 20-acre farm in Platteville. In addition, there's a large greenhouse dedicated to a collection of roses, plus an outdoor nursery and a selection of quality perennials. This allows The Flower Bin to carry an extensive inventory that's a must-see!
"The Flower Bin is a plant lovers' dream with endless varieties in a well-organized store. The staff is friendly and knowledgeable and the prices are reasonable for the quality you get." –Sherrie Figueroa, Broker Associate
Sturtz & Copeland, Boulder | Website
Regularly recognized as the best Florist and Greenhouse in the Boulder area, Sturtz and Copeland has maintained a tradition of quality customer service since 1929. A knowledgeable staff is always ready to help you! Along with professional floral arrangements, they offer a wide selection of annuals and perennials, plus a year-round greenhouse stocked with indoor plants.
"Sturtz & Copeland is quintessential Boulder and has been a local establishment for years and years. They have a fantastic nursery with beautiful indoor and outdoor plants, a floral shop plus unique gifts and cards. They are great for the holidays too!" –Niki Mattioli, Broker Associate
O'Toole's, Various Locations | Website
Their mission is to cultivate beautiful gardens and thriving communities. Visit O'Toole's for the plants, the products, and the expert advice you need to grow the garden of your dreams. This is a local, family-owned business with over 40 years of heritage. They offer high-quality garden products at affordable prices, so everyone can enjoy spending time together outside with friends and family.
"O'Tooles has an excellent selection of plants (succulents too) and a very helpful staff if you have questions...I always have questions!" –Deb Ellis, Broker Associate
Tagawa Gardens, Centennial | Website
Family owned and operated for 24 years, Tagawa Gardens offers four acres of greenhouses filled with indoor and outdoor plants, garden supplies, patio furniture, fountains and statues, gifts (including Live By Design gift plants), home and garden decor, seasonal decorations, friendly knowledgeable staff, classes, events and cat mascot, Grey Kitty. Tagawa Gardens specializes in helping their guests create purr-fectly beautiful gardens, patios and homes.
"Tagawa is a full-service garden center located in the south Denver metro area. You'll find an excellent selection of flowers, annuals, perennials, gifts, tools, seeds, vegetables, shrubs and trees that are specific for Colorado and the Rocky Mountains region. Tagawa is pet-friendly and offers classes for everyone. It's is my absolute favorite garden center!" –Denise Damian, Broker Associate
Green Lady Gardens, Lincoln Park | Website
When you visit Green Lady Gardens, they'll help you find houseplants that match your skill level and living environment. You will also receive on-site houseplant care education (if you'd like) and take home a unique care card for all or most of your houseplant purchases. Their goal is for you to leave confident and ready to have a prosperous relationship with plants.
"Here, you'll find well cared for and unique plants that aren't on their last leg like big box stores. They also provide a printout for care instructions so you don't immediately kill your new plants!" –D. Jeffrey, Communications Manager
About PorchLight's Local Supporting Local Campaign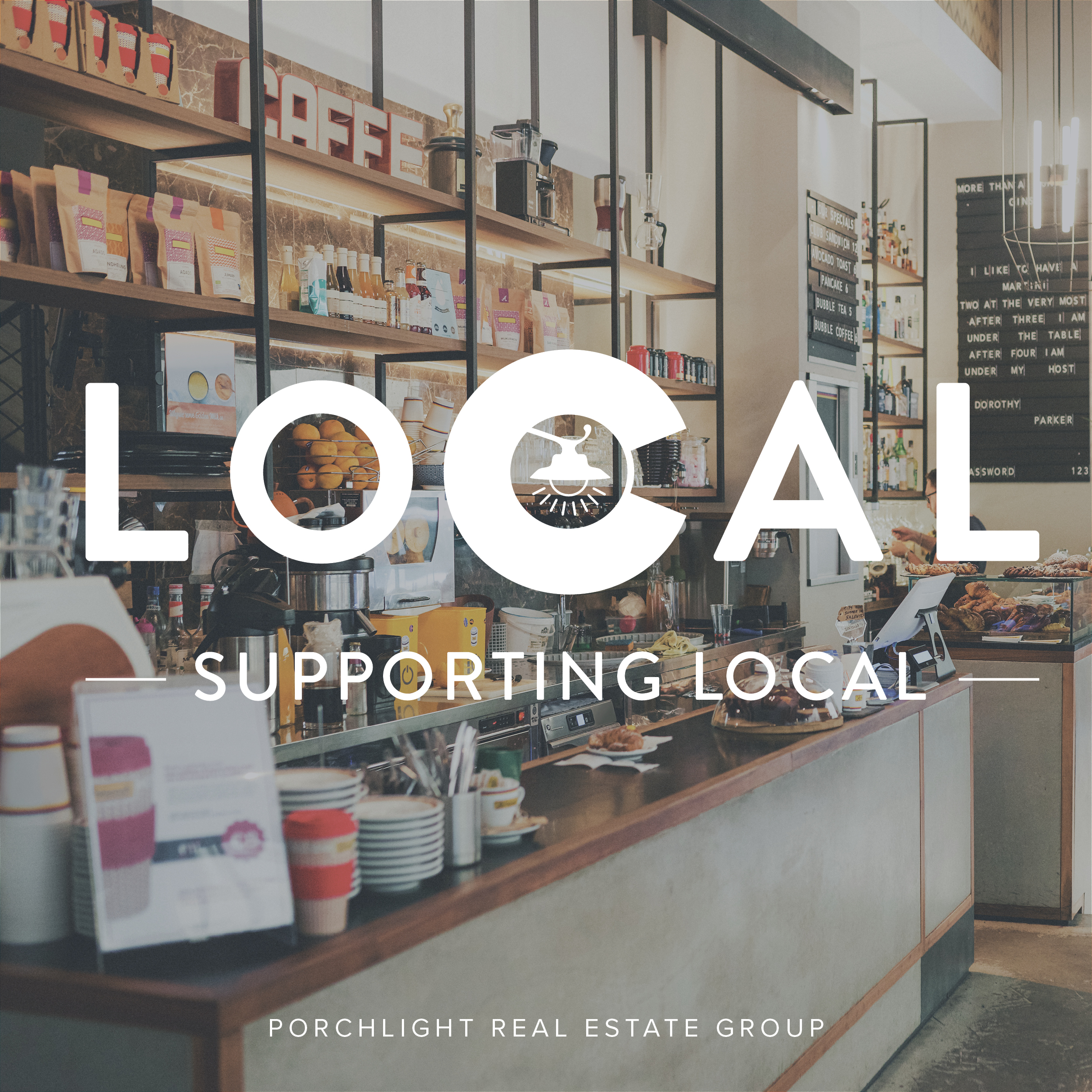 With 2020 turning our world upside down, we launched this campaign to help support our fellow locally owned businesses whose contributions to our city and lives are immeasurable.
We're committed to giving all types of businesses, from bookstores to bakeries and barbershops, the spotlight each week. We hope you will join us in giving them your support and helping to sustain their livelihoods and longevity in our community.
Along with being locally owned and operated, PorchLight Real Estate Group is also women-, Jewish- and LGBTQ-owned. And for over 15 years, we've provided a personalized and comprehensive approach to buying and selling homes in the greater Denver metro area and Boulder.