If you're looking for the best breakfast or brunch spot in Denver, Boulder and beyond, we have you covered. But first, what the heck is brunch anyway?
It's not breakfast, yet the menu offers Benedicts and waffles and glorious coffee in all of your favorite iterations. And it's not lunch though you'll often find burgers and heartier lunch-esque fare. In fact, brunch is the best of both worlds, offering something for everyone at your table.
And if you take your brunch seriously, you have the English author, Guy Beringer, to thank for inventing this weekend mealtime. Inspired by his own hangover, he penned the 1895 essay, Brunch: A Plea. In it, he suggested that if you party hard on Saturday nights, you should sleep in and replace Sunday breakfast with a hybrid meal around midday:
"Brunch, on the contrary, is cheerful, sociable, and inciting. It is talk-compelling. It puts you in a good temper; it makes you satisfied with yourself and your fellow-beings. It sweeps away the worries and cobwebs of the week. The advantages of the suggested innovation are, in short, without number, and I submit it is fully time that the old régime of Sunday breakfast made room for the "new course" of Sunday Brunch."
So, there you have it. Do you head the plea, whether Sunday or even Saturday? Then take a look at our list of the best locally-owned brunch restaurants in Denver and the Boulder area. Whether you want a carafe full of mimosas from Sassafrass in Golden or Denver's Highlands neighborhood or fresh, hot beignets from any Lucile's location in Boulder or Denver, our agents know where to brunch!
Acova, LoHi | Website
Acova is writing the next chapter of one of Denver's great neighborhoods. An iconic locale in a historic district, Acova builds on the rich story of "The Northside" (now known as LoHi) by breathing new life into an address with soul.
"Wonderful outdoor space. The benedict I ordered was served on a polenta cake, sprucing up a tried and true brunch meal. The bread pudding for dessert was rich and dense and served a la mode. And you cannot forget the brunch cocktails including a boozy dirty chai and the ultimate summer favorite: wine slushies." –Kim Beaumund, Broker Associate

Bird, Platt Park | Website
Bird offers classic American comfort food with a modern twist. All-day breakfasts, benedicts, crêpes, sandwiches, appetizers, soups, salads, dinner 4-9pm and yummy desserts. Delicious veggie and vegan options. Local craft beers, creative cocktails, full bar.
"Great atmosphere, including an outside patio with firepit. I go to the South Pearl farmers market on Sundays then stop in for their amazing brunch. Breakfast is served all day and they have a newly updated menu—the benedicts are my favorite." –Jeff Kerzman, Broker Associate

Three Little Griddles, Aurora & Centennial | Website
Opened in 2014, this popular family-owned breakfast spot first started at Smoky Hill and Gun Club in Aurora then expanded to Centennial in 2016. Their menu features all the classics along with unique options like the Nutella Swirl griddle cakes and Danish ebelskivers which you can have filled with fudge, lemon curd or a seasonal selection.
"Whether you go to the location on Inverness or at Southlands, this is a great brunch spot. They have a fantastic shrimp and grits, as well as a rich, Bananas Foster french toast." –Cissy Miller, Broker Associate

The Huckleberry, Louisville | Website
The Huckleberry serves what they call, Funky Country, real food you recognize and love with a modern twist. They also own Three Leaf Farm, enabling their chefs to plan seasonal, "seed to plate" menus based on the wide variety of vegetables, fruits and herbs that become available throughout the year.
"Huckleberry is just a really cute corner café worth visiting if you're in Louisville. It gets pretty busy on weekends so get there early (or just go on a weekday if you can!). They stick to more of the traditional breakfast items like french toast, scrambles, and benedicts, but they are all delicious. They offer a good brunch cocktail, but if alcohol isn't your thing, they also have a healthy list of tea!" –Alaska Kuntz, Broker Associate

Cafe Aion, Boulder | Website
Cafe Aion is a Spanish & Moroccan-inspired restaurant located on The Hill. Menus by chef/owner, Dakota Soifer, combine respect for and knowledge of high-quality ingredients with his talent to craft them into satisfying dishes. He serves food that is seasonal, available and fresh.
Alpine Modern, Boulder | Website
Located in a beautiful, old stone cottage, Alpine Modern's owners saw the opportunity to create an experience that just made you feel good. A hot cup of exceptional coffee, and delicious, thoughtful fare, served up in an intentionally designed space—that's the good life.
"I just love the vibe at both of them. Cafe Aion is quiet and kind of rustic and Alpine Modern is well, modern. Both are locally owned and have great patios and they are off the beaten path of downtown."–Stephanie Watson, Broker Associate

Even More Breakfast and Brunches
Syrup, Downtown, City Park and Cherry Creek
The Bindery, LoHi
South Side Walnut Cafe, Boulder
EAT! Food & Drink, Broomfield
The Parkway Cafe, Boulder

We Are Local Supporting Local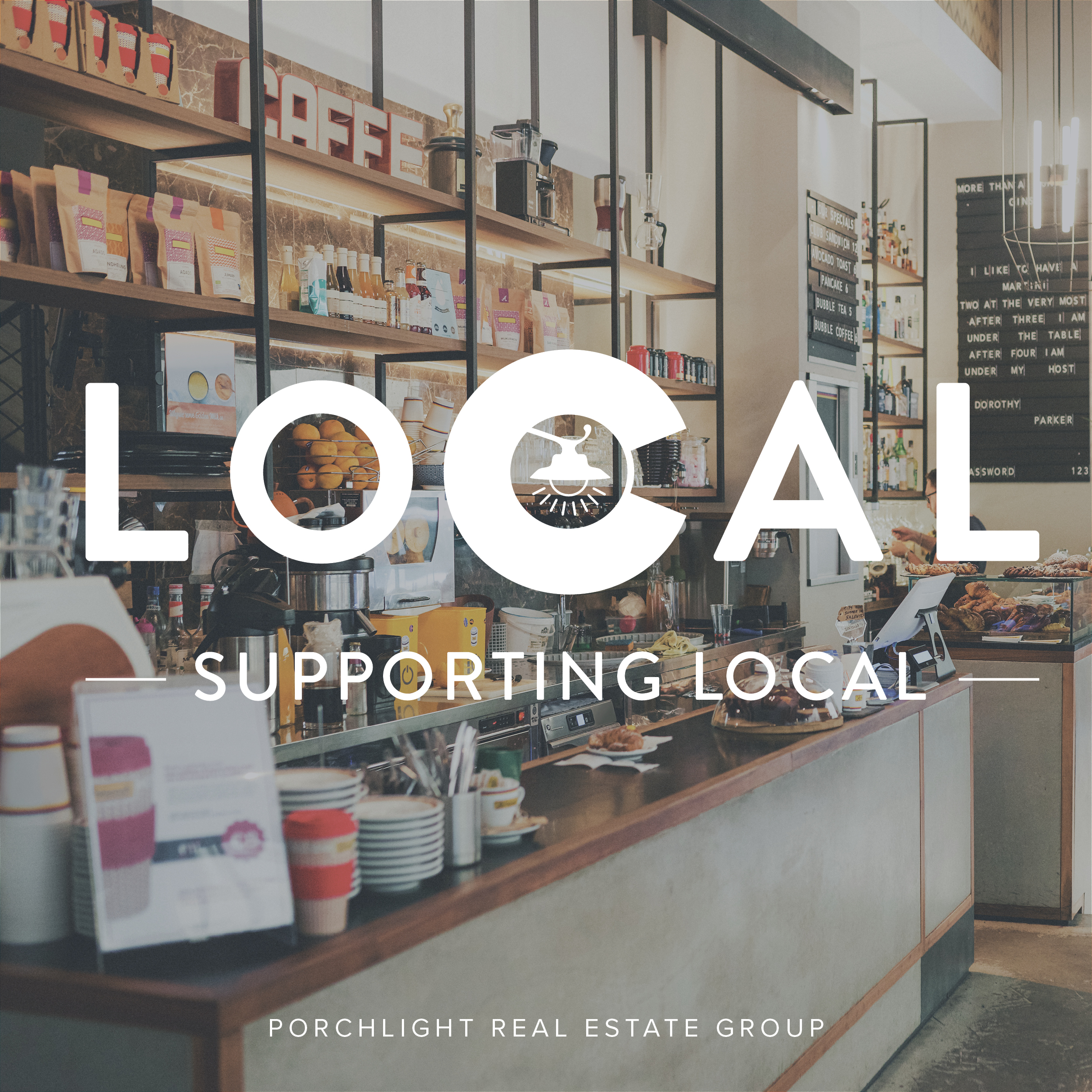 At PorchLight, we believe in supporting our fellow locally owned businesses whose contributions to our city and lives are immeasurable.
We're committed to giving all types of businesses, from bookstores to bakeries and barbershops, the spotlight each week. We hope you will join us in giving them your support and helping to sustain their livelihoods and longevity in our community.
Along with being locally owned and operated, PorchLight Real Estate Group is also women-, Jewish- and LGBTQ-owned. And for over 15 years, we've provided a personalized and comprehensive approach to buying and selling homes in the greater Denver metro area and Boulder.
Get in touch, and we'd be happy to guide your journey.