The Boulder Real Estate Market in September 2021
Month-over-month prices for detached, single-family homes continued to cool in both the city and county of Boulder, providing some relief for buyers. Across the county, average sales prices dropped from $960,412 in August to $925,348 in September. Boulder proper experienced a dip of just over $30k and the average sales price now stands at $1,447,979.
As for attached homes, such as townhomes and condos, the average sales price in the city of Boulder decreased month-over-month, however, across the county, prices actually jumped up from $509,280 to $529,669.
It's no secret that when you step back and look at the bigger picture, these are all significant increases in average sales price when looking at September of 2020, most notably, attached homes in the city of Boulder where inventory is down 67.9% compared to September of 2020.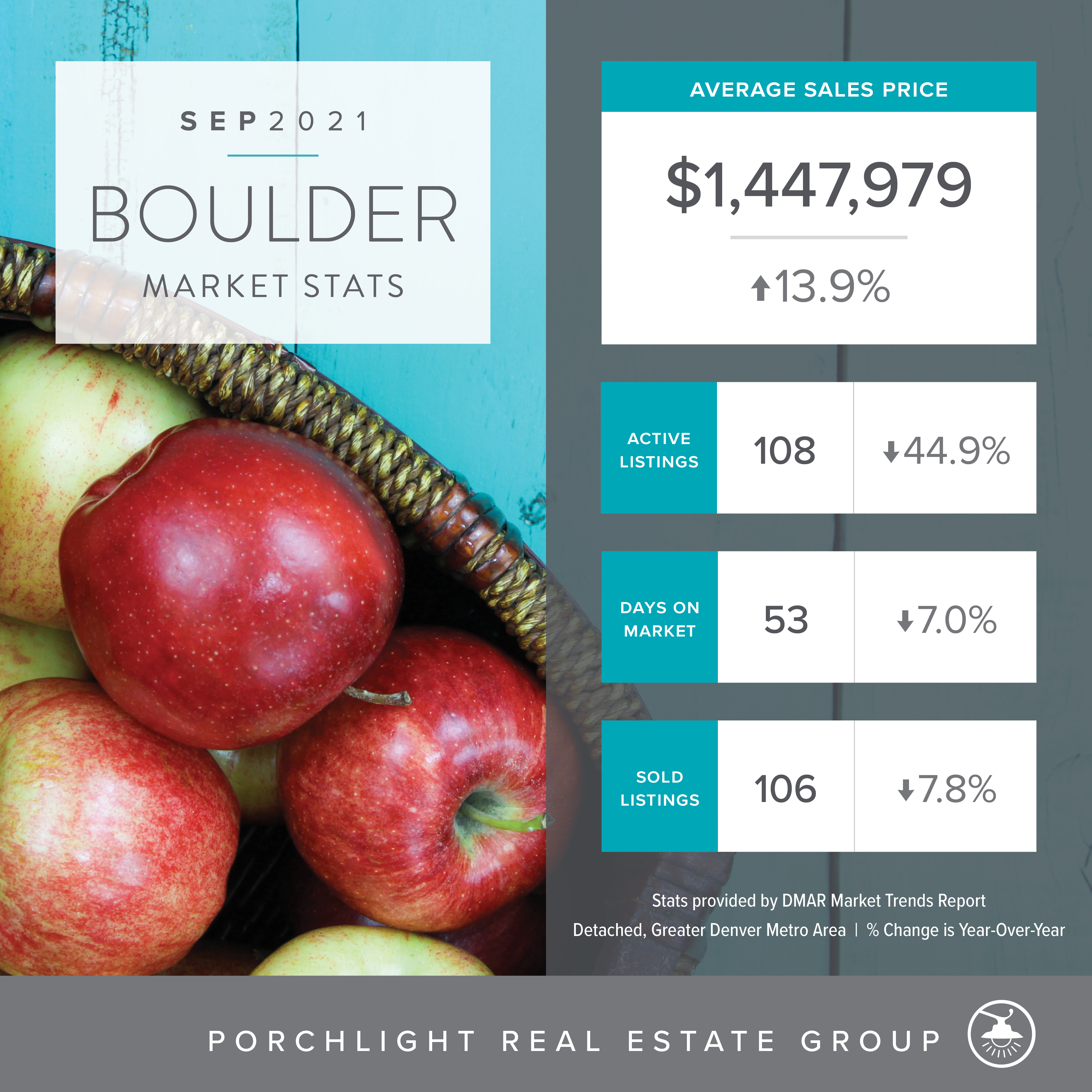 This lack of inventory also continues to play a huge role in detached, single-family home sales. Year-over-year, county inventory dropped by 46.8% and Boulder city's supply dropped by 44.9% with just 119 new listings and 106 homes sold. There are only 1.1 months of inventory currently available while a balanced market is 6 months of inventory.
Accordingly, single-family homes are selling faster this year and sellers are still averaging 101.5% of their asking price in Boulder and 101.6% across the county.
No matter what side of the table you're on, the best strategy is to work with an experienced real estate agent who will help you navigate the fall and winter market. Here at PorchLight, our agents have the connections (including 180+ colleagues in-house) it takes to find a home that fits your needs or a buyer who is ready to get closed.
The right agent can also ensure maximum return on investment if you're a seller. Even as the market cools, it's all about staging, photography, marketing and maximizing every resource to present your home to buyers locally and even globally. That's where we really shine.
To view our full report on Boulder real estate market stats for September, click here.
Get to Know the Home Buying and Selling Processes
If you've been holding off buying or selling because you're not sure of how complex the process is, we completely understand. There are a lot of moving parts! So, let's do a quick review. There's no time like the present when competition is high and interest rates are low.
The Home Buying Process
Figure Out Your Finances – Connect with a reputable lender and complete the process to be pre-approved. Just make sure the pre-approved amount fits into your full budget, adjust as needed.
Choose a Real Estate Agent – The right agent will take time to really listen to you, then guide your journey based on your needs, budget and preferred location.
Find Your Perfect Home – Browse listings online then attend open houses or private showings. At PorchLight, our agents use RealScout to notify you of homes that match your preferences as soon as they're listed.
Make an Offer – Work with your agent to prepare an offer. They'll write, submit and negotiate on your behalf.
Come Under Contract – Once both sides agree and sign a contract, the home will be held in escrow until closing.
Do Your Due Diligence – Get an inspection and appraisal, do a title search, find insurance and more—your agent can guide you and advise you if any issues come up, even renegotiate contract terms.
Close and Get the Keys – Once the loan is secured and you're cleared to close, your final stop is the closing table where a ton of paperwork is signed and the keys are yours!
The Home Selling Process
Choose a Real Estate Agent – The right agent will provide home pricing and marketing strategies to help you sell quickly and for top dollar. Your PorchLight broker will start with an in-depth Comparative Market Analysis.
Prep Your Home for Market – No matter what your home needs—cleaning, staging, photos and more—our in-house team has you covered. It will gleam in photos and impress in person.
Show Your Home – Open houses and private showings are scheduled to get tons of potential buyers in your door. And with PorchLight, our unique, collaborative open house program maximizes buyer traffic.
Accept an Offer – Your agent will advise you on selecting the best and strongest offer, ensuring you get a great deal. This might be the highest offer or the one most likely to close based on financing and other factors.
Come Under Contract – Once both sides agree and sign a contract, the home will be held in escrow until closing.
Wait for Due Diligence – The buyer will set up an inspection and appraisal, as well as secure their home financing. Trust that your agent will be in contact with the buyer's agent to ensure everything is moving along smoothly.
Close and Get Paid – Once the buyer is cleared to close, paperwork is signed, and funds are transferred!
Now that you have a better idea of what to expect, feel free to get in touch with one of our friendly and knowledgeable agents. They will guide you through this rollercoaster of a market, advocate on your behalf throughout the process, and provide you with red carpet service every step of the way. You don't want to miss out on your best opportunity to achieve your goals, and we're here to help make it happen!