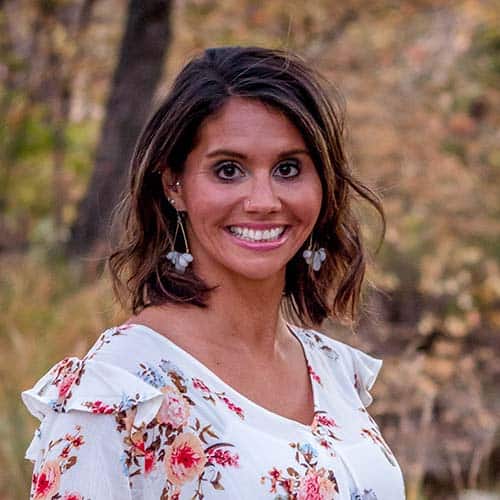 Broker Associate
|
REALTOR®
I fell in love with real estate years ago when I first moved to Colorado and became the personal assistant for a local Realtor. It was fascinating watching her help so many people find a place to call home, all while creating new friendships. I realized that this was something I had to do, and she encouraged me to get my license. I did just that, and haven't looked back [...]
I fell in love with real estate years ago when I first moved to Colorado and became the personal assistant for a local Realtor. It was fascinating watching her help so many people find a place to call home, all while creating new friendships. I realized that this was something I had to do, and she encouraged me to get my license. I did just that, and haven't looked back since.
Now, as an agent and advisor, my superpower is my ability to build relationships and connect with clients. I'll make the time to first get to know you—who you are and what real estate goals I can help you achieve. Communication is key and buying or selling a home is a major milestone, so I'll walk you through the process, provide a rundown of what to expect, and answer any questions.
My no-pressure approach also means I'll give you time to process it all. Once you're ready to hit the ground running, I'll guide and support you in any way you need. I love the thrill of the search and helping clients make their homeownership dreams come true. If you're looking to sell, I will go the extra mile to get you absolute top dollar. At every step, I'll be an advocate and represent your best interests in all negotiations to ensure a smooth, swift closing.
When I'm not at work, you might find me at a football, lacrosse, or basketball game for one of my three amazing kids. Our family also includes two pups, London and Leroy, two peas in a pod who bring us such delight! We live in Littleton which is a convenient spot for schools and trails, as well as great shopping and restaurants. I enjoy gardening, cooking, working out, and spending time with friends. When summer arrives, I'll head to the lake for paddleboarding and cooling off.
I'm always excited to meet new people, so reach out and let's get started on your journey!

Office Location
6759 E Belleview Ave
Denver, CO 80237
Contact Info
Specifications
Languages:
Specialties:
Service Area:
Anna's Testimonials
Anna was great to work with! She helped us on both sides of our real estate deal - buying and selling, and left nothing on the table with our deals. Strong negotiator and worked very hard for us. Without question, the best real estate agent I've worked with, and highly recommended in this crazy Colorado market!
-Anglemeyer's, Clients
I've worked with Anna professionally on her real estate contracts for the last couple of years. Anna is a true real estate pro. From guiding her clients through the negotiations all the way through closing, Anna is top notch. She truly cares about her buyers and sellers and does everything she can to make the home buying and selling process enjoyable and exciting.
-Lacy H., Client
It was such a joy and a comfort to walk through buying our first home with Anna. She is kind, energetic, spunky, understanding, and so knowledgeable about her field. A terrific woman to work with! She was quick to respond to my (numerous!) questions, and always worked with a smile. I wouldn't be surprised if we turn to her again in the future for selling and/or purchasing again.
-Schroeder's, Buyers
Anna delivered excellent service as our realtor.She is very responsive, professional, great listener, not pushy, she made us comfortable in our home buying process especially since this was our first home purchase experience.She is somebody we can trust. We will definitely refer her to our friends and family who need it. 
-Hoff's, Buyers
Anna is very knowledgeable in Real Estate and definitely will help you find your dream home! She and her team took care of all our house buying processes from the beginning to the end. We are first time buyers and she explained every step in the process and made it easy and stress free!! She is also a wonderful person to work with. She really cares for her clients. We highly recommend Anna!
-Nader's, Buyers
Anna helped us as an agent with a new construction home. She is always available if you have questions or need anything and went above and beyond to assist us throughout the process. She is knowledgeable and personable. I would highly recommend using Anna as an agent. Anna is the best!
-Bieberdorf's, Clients
Anna is absolutely amazing! First time home owners in this insane market and she helped us close on the most amazing home! Her work ethic is unmatched, you definitely want her on your side! She was available for all of our questions and was on top of new listings coming to market that fit our budget and must haves. Cannot recommend her enough!
-Alyssa M., Buyer
I've purchased many homes in my lifetime, but never have I been through a process like my condo-builder put me through. I got a discount if I went through their lender - so I chose to go that direction. The lender didn't communicate with me, AND missed the COE date THREE TIMES! I really put Anna through the test of stellar realtors on this transaction. I could not bear the incompetence of the lender anymore, threw up my hands and asked Anna to get between me and them to prevent a [...]
-Mary L., Buyer
When we 1st met Anna she was the most personable yet very professional Associate Broker. Always easily available, Anna was very helpful and flexible during a most challenging and difficult housing market within the south Denver market region where we were looking to buy. She truly cares about all her clients and always takes a compassionate approach and will make adjustments in viewing houses to tailor to her client's needs. Personally, not only did we find a terrific Realtor/agent - we found a [...]
-Roy's, Buyers
Anna is a great realtor! She is very personable and went the extra mile to help us find the forever home of our dreams. In a very competitive and challenging market she made it easy and fun. You don't just get a realtor with Anna, you get a new friend!
-Baumgartner's, Buyers
Contact
Hi there! How can we help you?
Contact us using the form below or give us a call.
Hi there! How can we help you?
Contact us using the form below or give us a call.