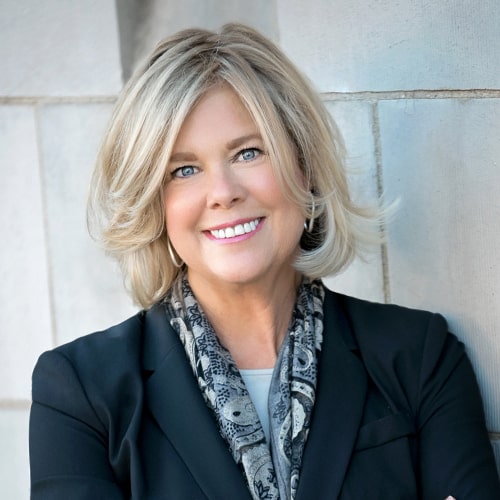 Broker Associate
|
REALTOR®, CME, CNE, SRES
Although I grew up outside of Boston, I fell in love with Colorado when I was 16 years old when my grandparents brought me with them on a trip to this amazing state. Colorado is now home to me, my husband (a third generation Colorado native), our two sons and our two dogs. My background is in the financial services industry, where my expertise was retirement plans for businesses. My husband and I also opened a restaurant in Massachusetts, which became a neighborhood favorite, until we [...]
Although I grew up outside of Boston, I fell in love with Colorado when I was 16 years old when my grandparents brought me with them on a trip to this amazing state. Colorado is now home to me, my husband (a third generation Colorado native), our two sons and our two dogs. My background is in the financial services industry, where my expertise was retirement plans for businesses. My husband and I also opened a restaurant in Massachusetts, which became a neighborhood favorite, until we sold it after 10 years. I have enjoyed volunteering at the various schools my sons attended. My approach to real estate is much the same as what my approach has been in my professional and personal life: treat people the way you like to be treated, do what it takes to go above and beyond to exceed expectations of those I'm serving, keep the lines of communication open, educate, prepare and set expectations, advocate for my clients, and really listen to what my clients are telling me/asking for. It's all about finding the right fit, which is unique for everyone.
Office Location
201 University Blvd., Suite 200
Denver, CO 80206
Contact Info
Specifications
Languages:
Specialties:
Service Area:
Cathy's Testimonials
Cathy Miller was the best! She was always there when we had questions, she was honest and helpful through the entire process. She truly cared about us our home, and what we were looking for. She became part of our home search, not just guiding us, but really excited for us and really in touch with what we wanted in a home. There aren't words to describe how amazing she is. Thank you, Cathy, so much, for everything!
- Lonnie S., Client
I want to express my appreciation for all your hard work and efforts culminating in the sale of my home at the Landmark.  My nephew and his wife recommended you and I knew upon first meeting with you that you were the real estate agent to sell my unit.  Your interested friendliness, warmth, market knowledge and experience made me feel confidently in good hands.  You knew (or quickly found) the answers to all my questions, and was able to stage, list, and show my unit immediately after I moved [...]
—Kathryn A., Seller
Cathy Miller is an outstanding and intelligent person you want to work with. First, she initially evaluates your priorities/preferences, and then refines them as you view houses together by your feedback on your likes and dislikes of each house. Second, she previews the properties before she makes her suggestions, so you don't have to waste your time viewing houses that does not fit your preferences. Furthermore, she does not schedule just one house for viewing but other comparable houses in [...]
- Jung P., Buyer
"We are so thankful to have worked with Cathy buying our first home! As first-time homebuyers, Cathy was beyond supportive & patient with us as we navigated the process. Cathy went above and beyond trying to understand our needs, previewing homes for us, and was always just a phone call or text away. Whenever there were difficulties or emotions that came into play, Cathy was always there to give us advice, help ground us and create a plan that kept our best interests and goals in mind. Would [...]
— Eric and Jessica D., Buyers
Cathy is the ultimate professional Realtor. I used her to sell my home and purchase another home. She is hard-working, knowledgeable and takes her fiduciary responsibilities seriously. She researched everything so I could make informed decisions. She previewed other listings and kept me informed about the competition when I was getting ready to price my home. She is awesome when it comes to marketing-no one does it better. And she definitely knows how to negotiate when it comes to price and [...]
- Harriette L., Client
Cathy Miller is an amazing realtor at Porchlight and helped us find the perfect home for our next phase in life. Her attention to detail and knowledge about the process was phenomenal. In addition, her "no pressure" approach and thoughtful advise were essential in helping us navigate the buying process. She even answered every call and text message immediately - EVERY SINGLE ONE. That is what I call service and made the whole experience much less stressful. We felt very confident that we were [...]
- Kimberly R, Client
Cathy Miller did a fantastic job for us as we went through the the process of purchasing a condo in Downtown Denver. From the first phone call to closing and after, Cathy went above and beyond in all steps of the process. From visiting the property numerous times, responding quickly to all questions and concerns and making sure the entire transaction went smoothly, Cathy was a true professional. Given our wonderful experience with Cathy, we would highly recommend Cathy for any real estate [...]
- Marti P., Buyer
Cathy Miller was an outstanding agent for my townhouse purchase in many ways! She located a unit in a highly desirable community in Palomino Park that was ideal for me, after numerous showings. Cathy assisted me with recommendations of reliable craftsmen for remodeling needs that are in progress now. She spent time overseeing needed repairs before closing and continues to help check on the ongoing work, while I still live 27 miles from my new townhouse. Cathy has a mature and positive attitude [...]
- Judith R., Buyer
Cathy Miller was fabulous to work with selling our condo in Capitol Hill. She started working the minute we met her and went above and beyond to help us sell it. Cathy provided multiple reports and information about comparable properties in the area to help us evaluate the condo. She immediately began networking with other realtors and the public to generate interest. We don't live in Denver and Cathy made multiple trips to meet with everyone to help get the condo cleaned, staged and shown. The [...]
- Marci H., Seller
Cathy is the most wonderful person and real estate agent I have had the pleasure of knowing and dealing with. The Denver area market is so crazy and she knows all of the ways to obtain the home you desire. Cathy understood what I was searching for and arranged for viewings immediately so we would have the best opportunity to get the first and best offer in. Cathy also worked closely with our lender at Canvas Credit Union and they tag teamed for us! If it weren't for Cathy's patience and [...]
- Leigh T., Buyer
Contact
Hi there! How can we help you?
Contact us using the form below or give us a call.
Hi there! How can we help you?
Contact us using the form below or give us a call.