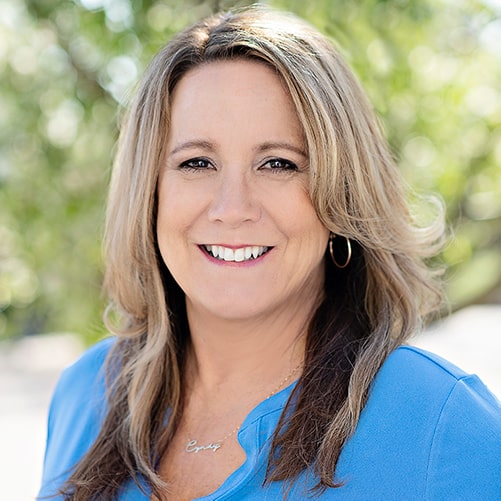 Broker Associate
|
REALTOR®, CME, CNE, GRI, CDPE, SRES
Being a Real Estate Agent is much more than my job – it's a lifestyle that requires trust, integrity and dedication. I understand that a home is one of the most important assets you can buy or sell. My motto is no pressure and no dialogues – just an honest assessment of the perfect scenario for you and your family as our market shifts. As a proud mom, wife and sales expert, I give every client peace-of-mind through my enthusiasm and experience. My spirit for building professional [...]
Being a Real Estate Agent is much more than my job – it's a lifestyle that requires trust, integrity and dedication. I understand that a home is one of the most important assets you can buy or sell. My motto is no pressure and no dialogues – just an honest assessment of the perfect scenario for you and your family as our market shifts. As a proud mom, wife and sales expert, I give every client peace-of-mind through my enthusiasm and experience. My spirit for building professional relationships will help you achieve what's best for you, no matter the price point.
I'm from Southern California but have considered North Metro Denver my home for 24 years. I know the ins-and-outs of Colorado, especially the Denver and Boulder markets. Our dynamic housing landscape is shifting, and it has never been more vital to find an advocate in a Realtor who draws on years of passion, commitment, expertise and proven negotiation results.
At PorchLight, my access to vast community information – locally and nationally – prioritizes informed decisions. Whether its details about neighborhoods and schools, city government, businesses, moving resources or even which railroads are active near a property, my knowledge will help you narrow down what options paint your perfect picture.
Partnering with me means support every step of the way – from our first conversation to years after the sale or purchase of your home. My goal is to not only be your Realtor who offers a top-notch experience with less stress, but after closing, a trusted friend backed by commitment, expertise and overall fun!
Office Location
8835 W 116th Circle, Suite P
Broomfield, CO 80021
Contact Info
Specifications
Languages:
Specialties:
Service Area:
Cyndy's Testimonials
Cindy, thank you so much for helping us sell our old home and buy our new one! Since we'd worked with you before, we knew we'd be in incredibly competent hands, and we were continuously impressed with your knowledge of the market, how seamless you made the process, and how willing you were to put in the extra mile for us.
- Cecily Harms Nicewicz, Buyer/Seller
Working with Cyndy was an absolute joy. She made, what would be, a daunting, stressful event fun. Of course there were times when I could not help but feel overwhelmed (especially buying in today's market), but having her to talk my fiancée and myself through, what seemed like impossible decisions, was key being successful. Her expertise, communication and transparency really shined through. She's just a great person - I feel like I've known her for years - and I look forward to [...]
Jon B., Buyer
I am very grateful to have Cyndy as my friend and my realtor. this is not the only sell or purchase that I have had the pleasure of doing with her. I highly highly recommend Cyndy. From start to finish she has taken the process seriously and with great professionalism. Shall I purchase or sell again...there is no one else I would work with. Love Love Love her
- Michael Rombach, Client
As a first time homebuyer I am so happy I hired Cyndy to help my fiance and I find our perfect home in a piping hot market. She has an addictive personality, and is sure to win anyone over. Cyndy fights for her clients, and wields expect negotiation skills. She is our realtor for life.
Hunter, Buyer
Cyndy Benschop is a very conscientious person and has been very proactive in screening properties and finding us options to evaluate.  She has done great research for us to narrow down the options and present us with properties that fit exactly what we describe to her we wanted.  We would highly recommend her to those looking.  She is detail and met our needs 100%.   Thank you Cyndy!
- Client, Homeowner
To say that Cyndy Benschop is a great agent would be an understatement, she was fantastic, one of a kind, and AMAZING! We were first time home buyers, with little to no understanding of the process, and she was helpful and informative every step of the way. We really trusted and could count on her advice and it worked out to benefit us as we are now holding the keys to our first home! Whenever I had a question or concern, she was quick to respond and did not make us feel like our questions were [...]
- Allison Hackett, Buyer
Worked with Cyndy Benschop for both the sale of a home and the purchase of a new one.  She was extremely professional and patient.  Presented many items to consider that I had not thought of and responded to every request very quickly.  Was a real advocate in my corner during the negotiations.  Would not hesitate at all to use Porchlight again and I highly recommend Cyndy in particular.
- Keith Hopkins, Buyer/Seller
It was such a pleasure working with Cyndy! My fiancé and I are first time home buyers. Cyndy took us under her wing and made us feel comfortable with the home buying process. She is a very good listener. She takes time to get to know your wants and needs so she can get you in the best home possible. Cyndy goes above and beyond. I can't tell you how many times she took a call or text after hours to answer questions or provide support. Cyndy was more than just a realtor, she became a friend. She [...]
Molly V., Buyer
Cyndy Benschop was EXTREMELY helpful in making the home buying experience easy and efficient, especially for me- a first-time home buyer. She knows every aspect of the business very well, was able to meet me on MY time (which was very convenient) and always acted in my best interest (i.e. educated me on things to be aware of during the initial offer, inspection, etc). I would highly recommend Cyndy to anyone considering buying a home in the area.
- Dan Ehle, Buyer
Cyndy helped us buy our first house, and when we were ready to move a few years later, it was a no-brainer that we'd work with her again. She is knowledgeable, a great communicator, and very professional. It's been a pleasure working with Cyndy and PorchLight.
- Cecily N., Client
Contact
Hi there! How can we help you?
Contact us using the form below or give us a call.
Hi there! How can we help you?
Contact us using the form below or give us a call.