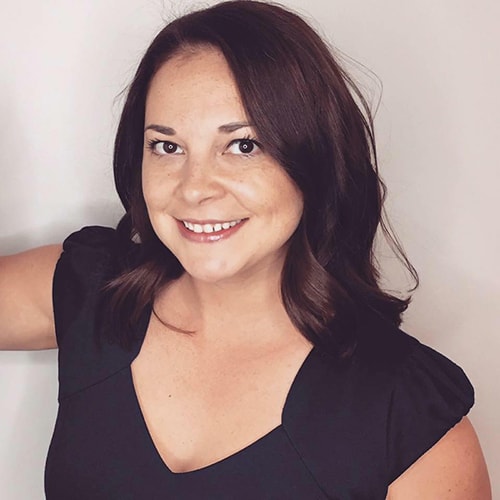 Broker Associate
|
REALTOR®, CME, CNE
Whether working with a first-time homebuyer, a seller looking to buy up or down, or an investor, Elizabeth Martinez offers a deep knowledge of Denver's market, insight into the nitty-gritty of real estate transactions, and a level of personal connection and commitment that her clients truly cherish. For Elizabeth, Denver real estate is the family business: she originally obtained her license in order to participate "on the side" in her family's 40-year-old real estate investment [...]
Whether working with a first-time homebuyer, a seller looking to buy up or down, or an investor, Elizabeth Martinez offers a deep knowledge of Denver's market, insight into the nitty-gritty of real estate transactions, and a level of personal connection and commitment that her clients truly cherish. For Elizabeth, Denver real estate is the family business: she originally obtained her license in order to participate "on the side" in her family's 40-year-old real estate investment company. That side business quickly became Elizabeth's passion, and has proven an excellent fit given her social personality and love of local history. Elizabeth takes great satisfaction in all the preparation that goes into listing a home so that it can be effectively marketed: "I enjoy finding out what makes a home unique, and why you can get certain prices in certain areas. The history we have here in the area is fascinating, and it really affects the way we live in our neighborhoods." Her knowledge of neighborhoods in metro Denver is extensive, stretching from Arvada to Aurora, from Denver's Highlands to Highlands Ranch, and beyond. Elizabeth states that in showing homes to buyers, "sometimes you have to kiss a lot of frogs to find the perfect match of home and buyer. But when it happens: it is truly satisfying." It's a moment she relishes, and she's not stingy about taking the time to make it happen. But today's market isn't easy, and complicated contingencies are known to crop up. Here's where Elizabeth's teaching background comes in handy: she works hard to explain each step of the real estate transaction to her clients. With Elizabeth on your side, you'll learn what you need to know to get to closing as smoothly and efficiently as possible. Elizabeth lives with her husband and two daughters in Northwest Denver, where she is actively involved in the neighborhood schools, as well as in several community organizations, in one of which she offers enthusiastic welcome to new members of her local parenting resource group.
Office Location
3220 Lowell Boulevard
Denver, CO 80211
Contact Info
Specifications
Languages:
Specialties:
Service Area:
Elizabeth's Testimonials
Elizabeth was amazing! She was always fast to respond when we had questions, was available basically whenever we needed her, and got us in a home in under two weeks!
— Jose R., Client
I could not have been happier with Elizabeth Martinez or the team at Porchlight. I felt like I had a personal assistant, contract specialist and marketing specialists at my disposal. Elizabeth went above and beyond to help me in every way. She found repair people for me and met them at the property, got estimates, communicated with my tenant, overall solved any problems that arose to get our property on the market in the timeframe we desired.   The cleaning, photography and other online [...]
- Jennifer, Seller
"I would like to express my sincere THANKS and KUDOS to Elizabeth Martinez. No on like her - Her product knowledge about every area, neighborhoods and over all care of her customer!! She does place her customer first, with check-in calls and on a home visit, she checks all the good, bad and some ugly details about the lifelong purchase you will be making. My husband and I would like to give Thanks for selling our home in record time and finding a new beautiful one for "our forever home". She [...]
- Marlyne A., Seller
Elizabeth, thanks for your top-notch personal application of a product—PorchLight Group—that covers all the bases and carries you through the process with a feeling of confidence.  It made all the difference having the nuts and bolts explained every step of the way, having that team of professionals backing you up and backing us up. PorchLight Group is a master in the real estate world and you do them great justice using every tool available with timely execution. Amazing!
- Lori Sullivan, Seller
Elizabeth is definitely one of the best out there. This housing market was crazy but she helped guide us through ups and downs and encouraged us to keep swimming. She is on top of all the little things and is responsive when you need it most. I would recommend Elizabeth to everyone looking for a house in the Denver area.
— Ryan K., Client
Elizabeth has been such a joy to have as our agent twice. She is extremely attentive and has always given us the best guidance. I would highly recommend her to whomever and have recommended to our friends. She has such a knack for the areas and we would have been lost without her.
— Matt S., Client
She literally goes out of the way, and spends so much time and effort with her clients. She's Awesome. Thank you for our home.
- Amanda T., Buyer
Elizabeth Martinez made it possible for me to buy the property that my dream home would be built on and also sold my home of 40 years for so much more than I could have ever imagined.  Neither aspect was "easy". The sellers for the property were tough negotiators, but the approach, patience, knowledge and professional abilities Elizabeth brought to the table all resulted in getting that property for a much more realistic price. The second stage was getting my "old" home sold.  Her advice was [...]
- Lynn C., Buyer/Seller
As a first time home buyer, I was incredibly nervous about this process. Elizabeth walked me through every aspect of the home search, was incredibly knowledgeable about the history of the neighborhoods we were looking in and caught details of properties (both good and bad) during walk through's that I noticed other agents overlooked. For someone like me who gets easily distracted by beautiful kitchens that was a HUGE help! She made looking for a home in a competitive seller's market as [...]
— Casey B., Client
Elizabeth Martinez assisted us in finding the perfect home in the VERY hectic Denver market. We were moving cross country and we were so impressed with Elizabeth's expert knowledge of the area, her ability to act very quickly, and her overall organization in maximizing our trips to Denver to find a home.   Once we found our home, Elizabeth did a fantastic job in negotiating and ensuring we would secure the home we fell in love with. We can't recommend Elizabeth enough - she truly checks [...]
- Brian B., Homeowner
Contact
Hi there! How can we help you?
Contact us using the form below or give us a call.
Hi there! How can we help you?
Contact us using the form below or give us a call.