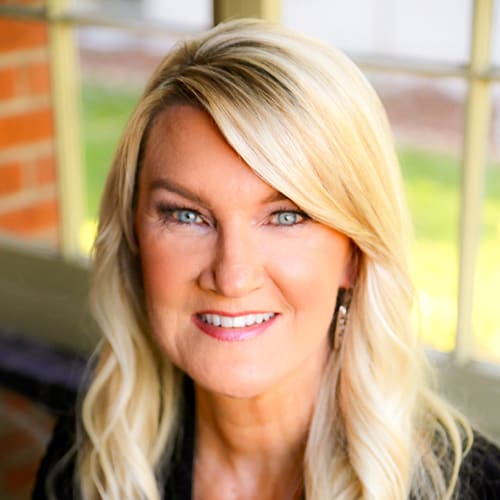 Broker Associate
|
REALTOR®, CME, RENE
I have a passion for homes that started at an early age. My mom is an interior decorator turned realtor; my dad is a real estate investor/property manager; and my brother is a home builder. So, I guess you can say real estate is in my DNA. A 20+ year resident of Washington Park, I love the lifestyle and charm of Denver's active urban neighborhoods. My handyman husband, Dane, and I live in a 1920s bungalow where we have become fixer-upper enthusiasts. Put a paint brush in my hand and I [...]
I have a passion for homes that started at an early age. My mom is an interior decorator turned realtor; my dad is a real estate investor/property manager; and my brother is a home builder. So, I guess you can say real estate is in my DNA. A 20+ year resident of Washington Park, I love the lifestyle and charm of Denver's active urban neighborhoods. My handyman husband, Dane, and I live in a 1920s bungalow where we have become fixer-upper enthusiasts. Put a paint brush in my hand and I can make magic happen! My approach to real estate is a personalized one. I want my buyers and sellers to know they can rely on me to listen, understand, and go above and beyond to meet their needs. Buying or selling a home often comes about when life is moving you in a new direction -- and you have plenty of other things on your mind. I get this and work hard to take the burden off you. It's about trust, integrity, honest communication and results. I am passionate about finding my buyers a house they love at a price they can afford, and for getting my sellers to the closing table smoothly so they can move on to the next chapter of their lives.
Office Location
201 University Blvd., Suite 200
Denver, CO 80206
Contact Info
Specifications
Languages:
Specialties:
Service Area:
Jill's Testimonials
Just by a simple word; You listened and heard; You knew who we are; To us that help went so far; You found the house you knew we would love; A home sent to us from heaven above; We will shout from the mountain tops high... Jill Our Realtor Is 'Your Guy!'
- James & Jennifer B., Buyers
Jill was great! She is knowledgeable, was always available to answer our questions or concerns, and made our home buying experience a really good one.
- Nikki J., Buyer
Jill helped us pull off a flawless purchase even while we were out of State. She stayed late during inspections, was on call 24/7 during negotiations, and coordinated everything in the most efficient and professional manner.
- Mallory J., Client
I really clicked with Jill. She understood my home buying needs, negotiated my purchase skillfully and helped me buy a condo painlessly. Jill is responsive and professional at all times. I would highly recommend her for buying or selling a Denver home. She goes over and above to make sure all the details are attended to.
- Claudia C., Buyer
We had a wonderful experience working with Jill and Sherry from the PorchLight team to help us sell our home. We listed our house at the beginning of April, during the Stay-at-home orders, so we were very nervous/hesitant on how the COVID pandemic would affect the sale of our house. Jill and Sherry put together a comprehensive marketing plan to not only include pictures, but also an amazing video tour, which ultimately sold our house within a week. Jill and Sherry are very professional and [...]
- Elisabeth R, Client
"Highly recommend working with Jill Hofslien!! Jill helped us find our dream house in a crazy competitive market in Denver. She has all the qualities you would want in an agent and beyond - high integrity, professional, smart, responsive, hardworking, and patient. Jill made the process understandable and smooth for us. We really liked the houses Jill recommended. She also connected us to a local lender we highly enjoyed working with and made sure the closing process went off without a [...]
-Melody T., Buyer
There are no words to describe how amazing Jill is. She helped us sell our home and with all her help and advice, it sold within a day! She then managed to help us find our dream home and we were able to close on the same day we had to be out of our original home. She is magic! She is so clearly experienced, her method to help us find our new home was genius. She also figured out exactly what we were looking for before we even knew how to articulate it. She stood by our side during the [...]
- Rob and Jeanine F., Sellers and Buyers
We bumped into Jill at an open house and almost immediately hired her to work on our behalf. She was warm, kind and LISTENED to what we were looking for. Her intimate understanding of the neighborhoods - block by block - was as impressive and as it was incredibly helpful. The search process was focused on our goals and our home-buying criteria, and not on available inventory. She was thoughtful, knowledgeable, and provided key information at key moments and we got our dream house. Her [...]
- Chris Z., Client
I cannot say enough about Jill as an agent and a genuinely nice person. She put in massive hours showing our home even though it was a very long drive. She always went the extra mile to help us realize our dream home. Her approach to narrowing down the homes we looked at was logical but she also took the time to figure out what our "style" was. Because she did, we wound up in the perfect home for us that we did not even consider at first, but she was right that once we saw it we [...]
- Jim B., Buyer/Seller
Was fortunate to have Jill Hofslien as my real estate agent for the sale of my Dad's condo in Colorado. As an out of state seller I needed someone I could trust. Jill helped me navigate the challenges of getting the condo ready to sell, ensured we went to market at the right price point for the market, and guided me thru my options as we worked thru delays on the buyers side to get us to close. The staging and advertising from the PorchLight Group was great. The communication [...]
- Diana M., Seller
Contact
Hi there! How can we help you?
Contact us using the form below or give us a call.
Hi there! How can we help you?
Contact us using the form below or give us a call.