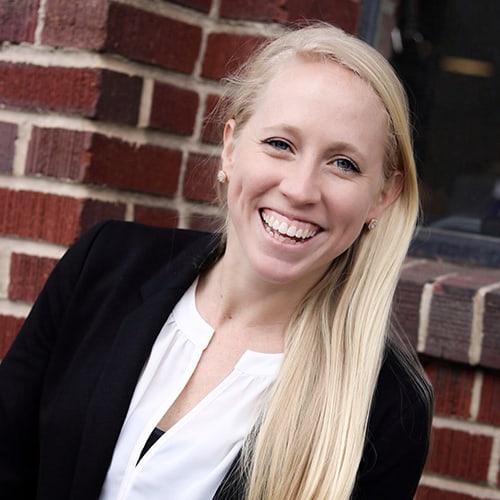 Broker Associate
|
REALTOR®, CME
Investing in real estate is a significant (and exciting!) step in your lifetime. Whether you're buying or selling, you deserve an agent like me who will always be in your corner no matter what curveballs are thrown your way. With a strong marketing background, I work tirelessly to market my clients and/or their properties to the fullest potential. I pride myself on knowing all the details and market knowledge for my clients so you can rest easy knowing that you can achieve your dream [...]
Investing in real estate is a significant (and exciting!) step in your lifetime. Whether you're buying or selling, you deserve an agent like me who will always be in your corner no matter what curveballs are thrown your way. With a strong marketing background, I work tirelessly to market my clients and/or their properties to the fullest potential. I pride myself on knowing all the details and market knowledge for my clients so you can rest easy knowing that you can achieve your dream investments! I moved to Denver from St. Louis, Missouri leaving the humidity and Gateway Arch for the Rockies and 300 days of sunshine. In my free time, I enjoy tackling 14er hikes, camping, stand-up paddle boarding in mountain lakes and pretending to be Serena Williams with my tennis game. Prior to real estate, I worked in the outdoor industry for prominent outdoor retailers. During my time in the outdoor industry, I became well-versed in digital marketing and advertising.
Office Location
6759 E Belleview Ave
Denver, CO 80237
Contact Info
Specifications
Languages:
Specialties:
Service Area:
Jill's Testimonials
Jill made my first home-buying experience so easy that I finished the process wondering what seemingly everyone else is stressing/complaining about when they buy their homes.  She was diligent and thorough throughout the process, which made me much more comfortable knowing she was leading the charge on my behalf (especially because I bought a 97-year-old house), and she was communicative and able to simplify or explain parts of the home buying process that I didn't know anything about without [...]
Jill was extremely helpful at every step of the home buying process and was huge help in finding a home and closing on it quickly!
- Caleb I., Buyer
I wanted to convey just how amazing Jill was from start to finish during our home-buying experience. We've purchased and sold many homes, and have used many agents, but Jill was by far the most thorough we've ever had. Her attention to detail, communication, and representation was exactly what we needed. I will never buy or sell a house without Jill again. She is the best agent around!
- Matt K., Buyer
"Jill was amazing! She made buying a home enjoyable and understandable. She was patient and listened to our needs. We were able to get the house that we wanted in the area that we liked. We love Jill! 200% Would Recommend."
- Dallas and Marisol
We are so lucky to have worked with Jill, especially in this crazy market. Jill was professional, patient and understanding through the whole process! She was constantly checking in with us and was always available. Her positive energy and passion made for an enjoyable experience. As new buyers AND new to the Denver area, she walked us through every step of the way and we wouldn't have found OUR home without her! 
- Ryan H., Client
My husband and I worked with Jill Kroeker to buy our first house in Denver, and honestly she could not have been more incredible. She gave us a neighborhood tour before we even started looking at houses so we could decide where we wanted to live and what we could get for certain prices. She was never pushy and made sure if we were interested in a house that we were able to see it ASAP. But the biggest thing... Jill was our advocate when the sellers refused to leave the property after we closed. [...]
- Kelsey & Mark S., Buyers
We were lucky enough to get to work with Jill for a second time in buying a home and our experience was once again wonderful! We decided to buy during a pretty crazy time in the market and Jill was so patient with us and always made sure we didn't get discouraged and actually waited to find the right house for our family. I am SO thankful for her patience, guidance and how hard she fought for us because we could not be more excited about the new home we get to raise our family in!
-Sarah & David M.
We are so happy to have worked with Jill to buy our first home. She truly cared about what was important to us and was always there to answer our (many) questions. She made the whole experience very enjoyable we couldn't be happier in our new home.
- Sarah H., Buyer
My husband and I wanted to buy our first home and we had no idea where to start. Thankfully, we found Jill from PorchLight and she guided us throughout the entire process! She took care of everything, made sure we were on top of all of our deadlines, and made the process so easy for us. She showed us many homes of our choosing and some that she thought we would enjoy based on our tastes, and thanks to her we found our dream home! We would highly recommend PorchLight Real Estate group, and [...]
- Jenna F., Buyer
STELLAR, PROFESSIONAL, PATIENT (with me), INCREDIBLE, FABULOUS.  Was that enough to describe how impressed I was with Jill.  She will have to tell you but...the buyers were two of the most difficult individuals to whom I have previously sold property.  Jill was beyond helpful to keep me cool.  She'll have to explain. She was outstanding.
- John & Barbara E., Clients
Contact
Hi there! How can we help you?
Contact us using the form below or give us a call.
Hi there! How can we help you?
Contact us using the form below or give us a call.