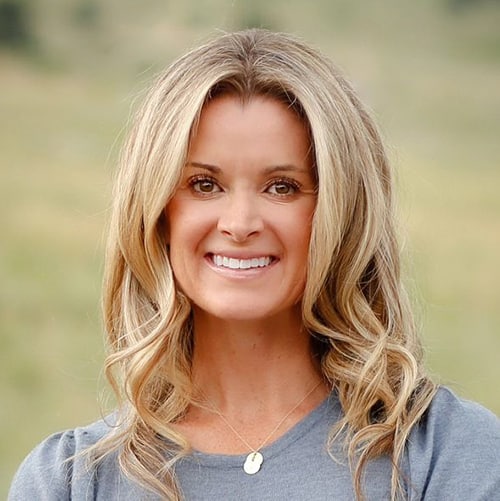 Broker Associate
|
REALTOR®, CME
Motto: Whatever it takes. A Native to Boulder, Lindsey grew up here and still calls it home. She attended Eisenhower Elementary, Burbank Middle School, Fairview High School, and finished her studies at CU Boulder. Her real estate career began as an assistant, evolved into an agent, and finally the Sales and Marketing Director for a national home builder. She has seen residential real estate from all [...]
Motto: Whatever it takes. A Native to Boulder, Lindsey grew up here and still calls it home. She attended Eisenhower Elementary, Burbank Middle School, Fairview High School, and finished her studies at CU Boulder. Her real estate career began as an assistant, evolved into an agent, and finally the Sales and Marketing Director for a national home builder. She has seen residential real estate from all sides.
In 2010 she took a hiatus to open a successful women's clothing boutique in Carbondale, which she later sold in 2016. This experience honed her service skills, business development, and appreciation for strong relationships. Lindsey and her family returned home to Boulder in 2016 to settle in and raise their family. They currently live in North Boulder, enjoying all amenities Boulder has to offer. When the weather is nice, you will find them out running, hiking, and spending time with their friends and neighbors.
Lindsey is actively involved in the Boulder community. She is currently on the Board of Trustees for Jarrow Montessori, the oldest Montessori School in Boulder County. She also serves on the Development Committee for EFAA, Emergency Family Assistance Association.
She believes giving back to her community is what makes Boulder so unique and a great place to live. Lindsey will be with you at every step of the process. Listening carefully to your needs, wants, and expectations. Whether helping buy or sell, she will make the process smooth and seamless. Her attention to detail is impeccable and her follow-through is exceptional.
Office Location
2500 Broadway
Boulder, CO 80304
Contact Info
Specifications
Languages:
Specialties:
Service Area:
Lindsey's Testimonials
Words cannot express how much Ruth and I appreciate the work that Lindsey has done to help us in this journey of purchasing a condo in Boulder. This is a weird world we live in right now and accomplishing our goal of this purchase essentially virtually with Ruth and me 1,500 miles apart has been quite an experience. We literally could not have done it without Lindsey. We will recommend Lindsey and PorchLight to anyone who might be considering a purchase in Boulder."
- Wayne M. & Ruth B., Clients
Not only did Lindsey and I become closer friends during the time she helped me purchase my home in Boulder, CO, but she was straight-forward, honest, smart, creative and relentless in our search together. I couldn't recommend a better person to find the perfect home in Boulder. She knows this town like the back of her hand, and apparently, knows what I like better than I do. Even my incredibly opinionated, know-it-all, mother loved the house!"
- Orit T., Buyer
We called Lindsey out of the blue, after finding a house we loved in Boulder. We are from out of state, she answered her phone on the first ring and was out at the property doing a video walk-through within the hour. We submitted an offer later that day and we won it. I don't think any other agent in Boulder could have won us this house. I feel so lucky that we had Lindsey representing us. She is a true pro and was with us every step of the way. Thank you for making this a reality for us! [...]
- Emily S., Client
The Boulder real estate market truly is a beast that is in a league of its own, and being a Boulder native herself, Lindsey truly understands the all-important nuances of this "bubble." I would recommend Lindsey to Absolutely anyone who is looking for a house, and can honestly say that the entire process was made more enjoyable and less stressful with her guidance. I'd give six stars if I could!"
- Julianna V., Buyer
Lindsey was just great. Her attention to detail blended with her can-do attitude made selling our house easy. We ended up getting more than we ever thought we would and her guidance was an important part of the success. She is our go-to realtor from now on. I haven't worked with anyone who can stay so focused and work so hard and get such a good job done before.
- Mark C., Client
Purchasing my new townhouse with Lindsey was smooth, simple, and worry-free throughout every step of the transaction. She paid careful attention to my unique situation, goals, and budget, and tailored her guidance accordingly. At no point did I feel any pressure, rather, I felt I had a trusted advisor and friend looking out for my best interests. Lindsey was always available for my questions, no matter how silly, and she helped me to feel confident in my decision to move swiftly in making an [...]
- Scott, Client
Working with Lindsey was the absolute best experience! She was a total delight to work with; knowledgeable, approachable, accessible. It is clear from the minute you start talking to her that she knows the Boulder market, works well with other realtors and is respected by them. At every step of the process, I knew she had my back and best interests in mind and wasn't just trying to close a deal. We will 100% work with her again and I can't recommend her enough!"
- Cory C., Client
Lindsey just helped us buy our first house, we couldn't be happier! She is a rockstar: Organized, always on top of the process and she was so patient with our endless list of questions. If you are looking for someone who cares about you and finding your dream home, Lindsey is your choice! Thank you, LC!
- Katherine O., Client
Lindsay was absolutely wonderful to work with. It was like having a friend on the "inside" that is working for you. She really cared about her clients and helped both the buying and selling process go so smoothly for us. She worked hard on all the little things too to make sure we were completely satisfied. She's definitely a hustler and we loved working with her!
- Stephanie and Kevin S., Clients
"We are so grateful to Lindsey for supporting us at every step, giving excellent advice, and helping us find a wonderful Boulder home."
- Cari S and Nathan H, Buyers
Contact
Hi there! How can we help you?
Contact us using the form below or give us a call.
Hi there! How can we help you?
Contact us using the form below or give us a call.